Rare bats found at Culzean Country Park in Ayrshire.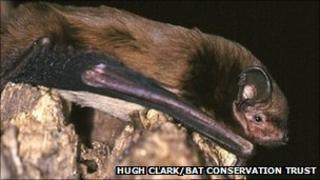 Two rare bat species have been discovered by a conservation team at Culzean Country Park in South Ayrshire.
The Nathusius' pipistrelle and Leisler's bats were found during an ecological survey at the estate.
A total of seven species of bats were recorded during the project, with evidence being present to suggest the possible presence of two more.
If these are confirmed it will mean that all known bat species in Scotland are present in one location.
Survey leader Claudia Gebhardt said: "Finding these rare bats in Ayrshire is a real achievement. Before this discovery, nobody knew if these species actually occurred in this part of Scotland.
'Groundbreaking result'
"Using mist nets and an acoustic lure, we managed to attract the high flying Leisler's bats down to our level.
"We radio tagged the three Leisler's bats caught and followed their nocturnal movements over the following nights."
Ms Gebhardt described finding breeding Leisler's bats as "a groundbreaking result" and said the team had "gained great insights into the behaviour of Leisler's bats".
She added: "The success of this project was largely due to current technology, which is still developing and will in the future further advance our understanding of Scottish bats.
"Any increase in knowledge is important and will assist in conservation management of these protected species."
The survey was carried out by the Scottish Wildlife Trust and volunteers from the National Trust for Scotland (NTS) ranger service, Ayrshire Bat Group, the NTS Bat Group, Central Scotland Bat Group and other bat surveyors at Culzean Country Park.
The survey was part of the Scottish Leisler's Project, run by bat experts John Haddow and Stuart Spray.