Dundee and Abertay universities set tuition fees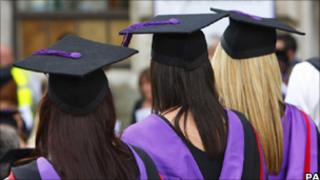 Dundee and Abertay universities have set their tuition fees for students from the rest of the UK.
Dundee will charge students £9,000 per year, capping four-year degree courses at £27,000.
Abertay set an annual tuition fee of £7,000, with a cap of £21,000 for honours degree courses.
Students who are resident in Scotland do not pay tuition fees at Scottish universities, but students from the rest of the UK (RUK) have to.
The UK government has raised the cap for universities in England to £9,000 a year from next year.
Shorter honours
Dundee said it would also develop a range of specially-designed three-year honours degree programmes.
The £27,000 cap will not apply to courses which are the same length as elsewhere in the UK, such as medicine, dentistry and architecture.
Prof Pete Downes, principal and vice-chancellor of Dundee University, said: "Many of our other courses will continue to be offered on a four-year basis, where we will cap total fee costs at £27,000.
''However, we are actively working on developing a three-year option for many of these courses."
The university said a "significant proportion" of the additional fee income would be used to fund a generous package of bursaries and scholarships.
It hopes bursaries and scholarships will be used primarily to attract students with high potential who might be deterred from taking a degree because of the cost.
Robin Parker, president of NUS Scotland, said: "Students and families know that setting high fees puts off the poorest students and makes attending university more about your bank balance than your ability.
"Dundee University now needs to improve its bursary package to ensure that students from the rest of the UK are not priced out of education."
For RUK students enrolling in first year and completing a full four-year course at Abertay, the university will fully discount the final year's tuition fee.
Abertay said it was developing a package of bursaries and scholarships which will be funded by a significant proportion of the additional fee income.
Professor Nicholas Terry, principal and vice-chancellor (acting) of Abertay University, said: "While historically we have recruited fewer students from the rest of the UK than other Scottish universities, we have seen a noticeable increase in recent years, particularly onto courses such as computer games technology and computer arts where we are an internationally-recognised centre of excellence.
"We believe the fee level we have chosen is a realistic and highly competitive rate that will reflect the government's intention of preserving and enhancing provision for Scottish-domiciled students, while maintaining a healthy flow of cross-border students that have always contributed so much to the richness of the student experience we offer."