University of Strathclyde sets RUK fees at £27,000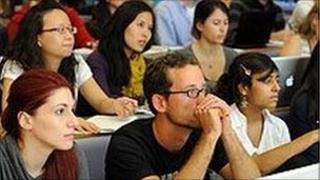 The University of Strathclyde has set its tuition fees for students from the rest of the UK (RUK).
Students from England, Wales and Northern Ireland will be charged £9,000 per year to take courses at the Glasgow-based university from 2012.
However, it will cap the total cost of four-year degree courses at £27,000.
Student leaders said that setting the fees at the highest level possible proved the university was "motivated purely by profit".
However, the University of Strathclyde said it planned to have a bursary fund of £5m in place to ensure students would have financial support if they ran into difficulty.
Students who are resident in Scotland do not pay tuition fees at Scottish universities.
Currently RUK students in Scotland pay about £1,800 in tuition fees.
The increase in tuition fees for non-Scots came after the UK government raised the cap for universities in England to £9,000 a year.
Strathclyde University Principal Jim McDonald said: "In choosing a university, students are making one of the most crucial decisions of their lives.
''At Strathclyde we believe all students who can benefit from higher education should be able to go to university, regardless of background.
''Because of new funding arrangements, Scottish universities have no choice but to charge fees for students from the rest of the UK.''
Charandeep Singh, president of the University of Strathclyde Students' Association (USSA), said: "University Court had an opportunity to show leadership by minimising the impact of RUK fees at Strathclyde and instead, they have chosen to charge the highest possible fees, proving that they have given into peer pressure and are motivated purely by profit."
NUS Scotland president Robin Parker said: "The university has stated a total budget for bursaries but we need to know urgently what that means for individual students and how much of their fee income will go to support access for the poorest students.
"As the government considers its response to the consultation on fees for students from the rest of the UK, we're calling for it to set minimum standards on bursaries to guarantee transparency and access into Scottish institutions."