'Milkybar Kid' knife man Steven Moran jailed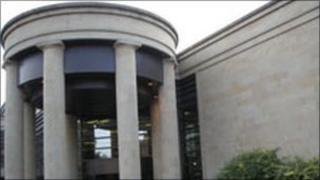 A man who was traced over a stabbing in South Lanarkshire because he looked like the Milkybar Kid has been jailed for four-and-a-half years.
Steven Moran, 26, stabbed 20-year-old Mark Mulrooney nine times in Newton Railway Station car park last May.
A police officer later identified Moran from CCTV footage of the attack as a man known locally as the Milkybar Kid.
Moran, who was originally charged with attempted murder, admitted assaulting Mr Mulrooney to the danger of his life.
During a previous hearing, the High Court in Glasgow was told that the attack followed a large-scale disturbance nearby in which two people had been stabbed and another injured.
Local rumour had blamed Mr Mulrooney for stabbing a girl in the area in the early hours of 22 May last year.
Soon afterwards he was chased by a group of youths and girls through Newton Railway Station.
First offender
The CCTV showed blonde-haired Moran, who also wears glasses, holding a knife as he took part in the pursuit.
The cameras captured Moran brandishing his knife and struggling with Mr Mulrooney.
The victim was stabbed nine times, but many of the wounds were superficial and he suffered no lasting damage.
The court heard that because Moran was a first offender, detectives could not identify him.
However, a month later the footage was shown to a community policeman who said: "It's a guy known as the Milkybar Kid."
Moran, from Westburn near Cambuslang, was sentenced at the High Court in Edinburgh on Tuesday.