Sharkey fire murders: CCTV 'witnesses' come forward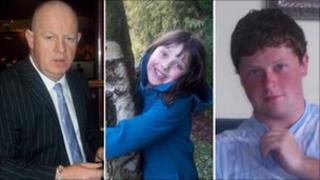 Potential witnesses seen in CCTV released by police investigating a triple murder in a fire in Helensburgh have come forward.
Thomas Sharkey, 21, and his sister Bridget, 8, died following a deliberate blaze at their home on 24 July. Their father Thomas, 55, died six days later.
Last week detectives released two images of six men seen walking in the area around the time of the blaze.
It followed an appeal for information on the BBC's Crimewatch Programme.
The fire in the Sharkey's family home in Scott Court in the town broke out at about 05:00.
The only survivor was the victims' wife and mother, 46-year-old Angela Sharkey, who was not well enough to be told of her family's deaths until almost two weeks after the blaze.
She made an emotional plea to viewers to come forward with any information during the Crimewatch programme.
Det Supt Peter McPike, the officer leading the murder inquiry, said: "As we stressed before, the people in the images that we released last week are not suspects, and we wanted to trace them as they may have unwittingly witnessed something that could move our investigation forward.
"We are now able to confirm that the four men walking on East Princes Street and the two men walking on East King Street in the CCTV images have come forward to police."
Detectives are still keen to trace two other people seen in the local area around the time of the fire.
One was seen in John Street walking across West Princes Street and the other one was seen entering a lane known locally as Rowatt's Lane.
Det Supt McPike added: "I would like to thank everyone who has come forward to police with information since the BBC Crimewatch programme was shown.
"However, I am sure that there are still people out there who have not yet come forward to police with vital information.
"I have said before that this may well be because of misplaced loyalty or fear, and I would like to point out that three people, one of whom is an eight year-old child, are dead and a whole family have been left devastated by this terrible crime."