Firefighting fun day for Chernobyl children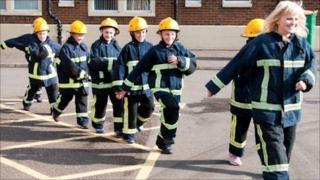 A group of children from the disaster area of Chernobyl have had a fun day out at Coatbridge fire station.
They got to play with the water jets, the aerial rescue pump and tested that appliance lights, sirens and horns were working properly.
The children aged between 7 and 11 are in Scotland thanks to the Friends of Chernobyl's Children Charity.
The group come from Belarus which was badly affected by the nuclear plant disaster 25 years ago.
Crew commander Ross MacPherson, who organised the visit, said: "The stories of these children are heartbreaking- they come from villages which are in the Chernobyl exclusion zone and, at times, the best they can look forward to is one meal a day.
"Giving them a fun day, where they can try out running the hoses, splash around with the jets and generally be carefree kids for a few hours is the least Strathclyde Fire and Rescue can do."
Local families are hosting the children for a month.
Kenny Turnbull, co-ordinator of Friends of Chernobyl's Children, added: "The kids had an absolutely brilliant day, this is like going to Disneyland for them.
''While in Scotland, they get medical, dental and optical check-ups and enjoy the love and attention of their host family.
''Outings like this just make their time in Scotland truly special."