Muazim Shah jailed for life for Lynne Farquhar murder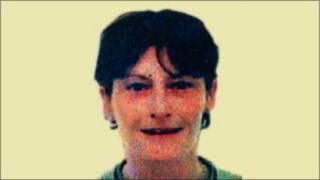 A man convicted of murdering a woman in a brutal attack at her flat in East Renfrewshire has been jailed for life.
Muazim Shah, 33, is believed to have killed Lynne Farquhar at her home in Barrhead last September after she refused to give him drugs on credit.
He was caught after a bloody footprint was found on the 47-year-old's body.
At the High Court in Glasgow, Shah was told that he must serve a minimum of 18 years in prison before being eligible for parole.
At the end of his trial, Shah was also convicted of attempting to defeat the ends of justice by disposing of the clothing and shoes he was wearing when he murdered Ms Farquhar and having heroin in his possession.
Horrific bruising
The court was told that Shah had previous convictions, including a drugs offence for which he received a six-year sentence in England.
He is believed to have bought heroin from Ms Farquhar and snapped when she refused to give him drugs on credit.
During the frenzied attack, Shah left his victim with a fractured skull, three broken ribs, a fractured larynx and horrific bruising to her head and neck.
After beating Ms Farquhar to death he went home and watched television and played with his children.
The court was told that when Shah kicked and stamped on Ms Farquhar, his white trainers left an imprint in blood on her stomach and a partial footprint at her ear.
Shah was captured on CCTV wearing a pair of the Adidas Lin jogger trainers on the day of the murder, but he disposed of the shoes and his bloodstained jumper and jeans afterwards.
Detectives investigating the murder discovered that Shah's partner and the mother of his two children had bought him a pair of the trainers a few months before the murder.
During questioning by police Shah denied ever having a pair of Adidas trainers but police found a picture of him with one of his daughters on his mobile phone in which he is wearing a pair of the shoes.
Shah's black Toyota Avensis which he drove to Ms Farquhar's home that day was examined by forensic experts who found her DNA on the steering wheel and handbrake of the car.
Smoked heroin
They were of the opinion this DNA came from either skin or saliva.
Shah admitted to police that he had a heroin habit and had been a customer of Ms Farquhar's.
He claimed that he had bought some heroin from her on the day of the murder and then went to his car and smoked it.
He said that she was still alive when he left and said that someone else had murdered her.
Jailing Shah for life, temporary judge Kenneth McIver told him: "The evidence showed that the fatal blows were received from being hit against surfaces and from kicking and stamping.
"She probably did not die instantly. Her life came to an end in a painful and terrifying way.
"This murder was committed for the purpose of taking drugs and money from Lynne Farquhar."