Sharkey fire murders: birthday appeal issued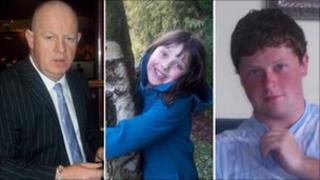 Police investigating a triple murder have renewed their appeal for information on what would have been the ninth birthday of one of the victims.
Bridget Sharkey and her 21-year-old brother Thomas died following a deliberate fire at their home in Scott Court, Helensburgh on 24 July.
Their father Thomas, 55, died in hospital six days later.
Strathclyde Police said they needed to trace two people seen around the time of the fire, which started at 05:00.
Det Supt Peter McPike, the officer leading the inquiry, said: "We understand that someone who knows who is responsible may not have contacted officers due to misplaced loyalty or fear, however, Angela Sharkey has lost her husband and her two children and today of all days, which should have been Bridget's ninth birthday, I would ask that you now speak to police."
Following an appeal on BBC's Crimewatch programme, police have traced six witnesses shown on CCTV images.
"However, despite this and several other appeals, we still need to trace, as a matter of urgency, the two people seen in the local area around the time of the fire in the early hours of Sunday 24 July 2011," Det Supt McPike said.
"The first person was seen in John Street walking across West Princes Street. The second person was seen entering the lane known locally as Rowatt's Lane.
"I cannot stress enough how important it is that we trace these people as they may have vital information which can help our inquiry."
The only survivor of the fire in the Sharkey's family home was the victims' wife and mother, 46-year-old Angela Sharkey, who was not well enough to be told of her family's deaths until almost two weeks after the blaze.
She made an emotional plea to viewers to come forward with any information during the Crimewatch programme.