Taxpayers' Alliance: Council awards 'waste of money'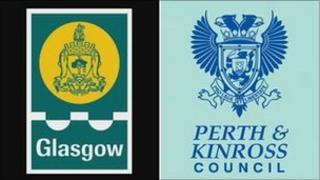 A campaign group has accused Scotland's councils of unnecessary extravagance by "spending thousands of pounds on back-patting award ceremonies".
Figures obtained by the Taxpayers' Alliance show Glasgow City Council was the country's top spender with £79,529 on awards ceremonies between 2010/2011.
Perth and Kinross spent £41,260, Fife paid out £20,047, Falkirk spent £8,977 and Dumfries and Galloway paid £9,386.
Edinburgh and Clackmannanshire were among the lowest with £922 and £1,140.
Matthew Sinclair, director of the Taxpayers' Alliance, said: "Taxpayers will be staggered that councils facing significant pressure on their finances are spending thousands of pounds on back-patting award ceremonies.
'Reality check'
"Recognising staff who have done well doesn't require this kind of extravagant spending. Some authorities have shown that they understand award ceremonies aren't the right priority for money that is supposed to be spent on frontline services, but others need a reality check.
"Many items of spending like this are a small share of councils' total budgets but controlling these kinds of costs can add up to a better deal for families."
The Taxpayers' Alliance sent Freedom of Information requests to 433 local authorities plus the Greater London Authority on 21 April this year.
The responses showed that Glasgow City Council's expenditure on awards ceremonies was the second highest out of all the councils which responded across the UK.
The costs included £17,309 spent on the Flourish Awards - staff recognition awards, £10,086 on Clean Glasgow Awards, and £9,577 on the Commonwealth Apprenticeship Initiative.
A Glasgow City Council spokesman said: "Awards ceremonies help to recognise and share good practice in the public sector, and they present excellent opportunities to heighten the city's profile.
"For example, the Commonwealth Apprenticeship Initiative awards event showcased some of the many hundreds of successful young people in Glasgow who now have a bright future ahead of them thanks to Glasgow City Council and businesses in the city and beyond.
'High value'
"Glasgow City Council is by far the biggest local authority in Scotland, and the total spend on events has to be seen in the context of our annual budget of around £2.5bn."
A spokeswoman for Perth and Kinross Council said: "We place a high value on the work of our employees and believe that rewarding them with appropriate recognition of their efforts, often in exceptional circumstances, shows our support for them personally and in turn helps them to provide excellent services to our residents and customers.
"We continue to review the costs associated with this activity and make every effort to contain these."
The Taxpayers' Alliance said Fife Council attended and hosted the most ceremonies out of the local authorities which replied, with a total of 34 during the period.
Ronnie Hinds, chief executive at Fife Council, said: "Fife Council's staff work very hard to provide the best services we can for the people of Fife. We believe it is important to recognise good service, to help motivate staff and to identify good practice as part of our drive for improvement.
"Many of the events listed were at no cost to us or held in Fife, although officers travelled to 11 award ceremonies where Fife was short-listed for best practice. We are monitoring the costs and will consider limiting them further.
"However, sometimes it's important to pay more than lip service to a thank-you. For example, we spent #5,000 on a number of receptions throughout the year for council employees who had reached 40 years in public service, and to congratulate firefighters with long service, commendations and bravery awards."
Moray Council paid out £10,105, according to the figures issued by the Taxpayers' Alliance.
A spokesman for the council said: "The bulk of the costs attributed to Moray Council are for framed certificates and vouchers gifted to valued staff for long and loyal service to the public and which the council feels should be recognised.
'Testing quality'
"While it is accepted that the Taxpayers' Alliance needs to keep up its profile and contributions flowing in, it is worth noting that the cost to the taxpayer for this Freedom of Information request, sent to all 434 local authorities in the UK, is at the very least £25,000 and likely to be much more."
Edinburgh City Council spent £922 in the financial year, and Clackmannanshire Council spent £1,140, including £320 for travel and £820 on attending the Cosla excellence awards.
A spokeswoman for Edinburgh City Council said: "Awards are an excellent way of testing the quality of our services against the best of the public sector. It's in the interests of everyone that we serve that the council aspires to the highest possible standards.
"Our own award ceremonies are mainly funded through sponsorship and particularly in the current economic climate our attendance at award ceremonies is kept to a minimum."
Aberdeenshire Council spent £700 on advertisement, refreshments, trophies and certificates for the Employee Achievement Awards Ceremony and £700 on refreshments/lunch at the Long Service Award Ceremony.
Western Isles Council, Comhairle nan Eilean Siar, said it did not host or attend any award ceremonies, while some councils said the request exceeded time limits to provide information under Freedom of Information laws.
Across the UK, councils spent at least £1.2 million on award ceremonies in the last financial year.