Glaswegian children top of UK 'grit scale'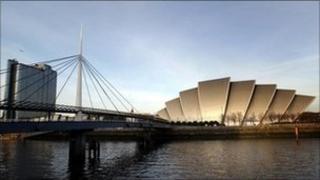 Glaswegians are more likely to have determination, passion and perseverance as well as the skills needed to succeed, according to a new study.
Researchers have developed a "grit scale" to measure qualities such as working towards challenges and maintaining effort despite failure.
Glasgow was given a "grit score" of 3.16, Aberdeen came second, with 3.15, and Edinburgh joint 15th with 3.05.
The study focused on 2,000 11 to 18-year-olds throughout the UK.
The scale was developed by Professor Angela Duckworth at the University of Pennsylvania in the US.
Grit 'essential'
She said: "Grit may be as essential as talent to high accomplishment.
"If it's important for you to become one of the best people in your field, you are going to have to stick with it when it's hard."
Gloucester came bottom of the scale, with a score of 2.87, with children growing up there rated as the least likely to see their ambitions through.
Respondents in the city said they changed their goals, lacked focus and were discouraged by setbacks.
The study was commissioned to support AXA's initiative the Ambition AXA Awards.