Life Technologies may site new factory in Renfrewshire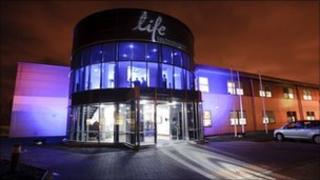 A major biotechnology company has put Renfrewshire on the shortlist for a large new factory.
Life Technologies, based in California, says its workforce and track record puts it in a strong position to beat off competition in the US and Asia.
The firm already employs 500 people at Inchinnan, near Glasgow Airport, many in the manufacture of cell culture that goes on to be used for making medicine.
With total sales of £2bn per year, it also dominates the DNA testing market.
The company is now moving into development of personalised medicines based on genetic analysis.
Chief executive Greg Lucier visited the Renfrewshire plant last Wednesday, to tell managers they are competing with an American factory and a new site in China for an investment in high-tech manufacturing.
He said the scale is in the tens of millions of dollars, and it is understood that could mean as much as £20m.
Sluggish growth
He told BBC Scotland the skills and quality of work in Renfrewshire stand it in good stead, but that the European market it serves is the part of the world in which sales are toughest, and that could count against it.
He said China is making a major commitment to developing its life science sector, which could outstrip that of the US by 2020.
And while Europeans have invested in life sciences, sluggish growth and cuts in government spending could harm the Inchinnan plant's chances of winning the investment.
Mr Lucier agreed with concerns raised by US Treasury Secretary Timothy Geithner in recent days that Chinese companies have been "aggressively stealing" American intellectual property.
"They want to see more home-grown companies, and there is a worry that our technologies could find their way to those home-grown companies," he said.
"We haven't had that problem yet, but it's something we're keeping our eyes on".
The biotech boss said of his Scottish workforce: "We have a skilled workforce that has been very committed and loyal through the years.
"We have customers who believe in this facility and its quality, as one that delivers on time.
"We're considering substantial investments in the type of things we do here. But it is competitive, and we could do it in other sites we have".
Asked about the advantages of Chinese labour costs over Scotland, he replied: "The labour costs wouldn't be as much of a consideration for us.
"What would be more important would be our ability to quickly get the permitting, to make it work with our existing infrastructure, what potentially would be the demand for us in the European theatre."
A feature on Life Technologies and an interview with Greg Lucier was on Business Scotland on BBC Radio Scotland on Sunday and is available on BBC iPlayer and on as a free download.