Former policeman and Rangers fan fined over bigot song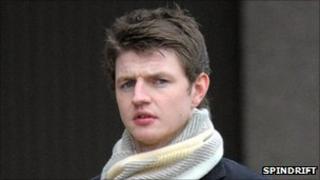 A former police officer and Rangers supporter has been found guilty of singing sectarian songs at Ibrox.
Jamie Hetherington was a probationary officer with Strathclyde Police when he was detained during the Rangers versus Aberdeen game in April last year.
At Glasgow Sheriff Court, Sheriff Lindsay Woods told the 23-year-old he had "brought shame" on the force.
He fined Hetherington £1,000 and banned him from attending football matches for five years.
'Belting it out'
During his trial, the court heard from security steward Sarah Horton, who said she saw Hetherington singing sectarian songs and pointing at Aberdeen fans during the match.
Ms Horton said: "I heard the fans singing sectarian songs and I turned round and saw him.
"He was just belting it out with no discretion. Other people were trying to hide it so we couldn't really pick them out but he was just belting it out."
Ms Horton said Hetherington was ushered downstairs to the concourse area where the police took over.
Hetherington also gave evidence, during which he denied singing sectarian remarks and claimed it may have been a case of mistaken identity.
He told the court that he was a probationary officer at the time, with just 18 months service.
The former officer said: "Owing to the allegations against me, I was asked to resign from my post."
Following his conviction, Sheriff Woods told Hetherington: "I'm satisfied I can rely on the evidence of the two female stewards who were able to say it was you joining in on a song which included the words Fenian bastards.
"I wasn't impressed by you. I got the impression with you that you were in denial.
"You've ruined your career by your mistake. You brought shame on your employers at Strathclyde Police."