Parents appeal over missing son Jordan McGinty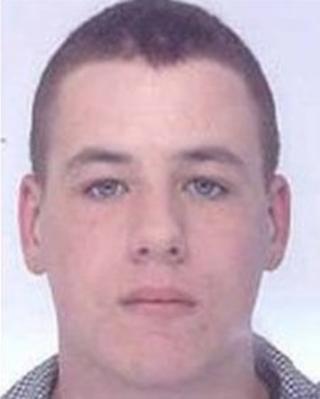 The parents of a young man from Glasgow - who has not been seen since leaving for college last week - have made an emotional appeal for his safe return.
Jordan McGinty, 20, was last seen by his family at 08:30 on 27 September as he was leaving for Cardonald College.
His father Stephen, 40, and mother Alison Graham, 37, have appealed for him to get in touch.
Jordan is about 6ft (1.83m) tall, of medium build, with short brown hair and has green eyes.
When last seen, he was wearing a light grey hooded top over a top with navy and turquoise horizontal stripes, dark grey coloured jogging trousers and white Puma training shoes.
He was also carrying a black and grey rucksack possibly with a McKenzie logo.
'Everybody worried'
Speaking at a media conference on Tuesday, Jordan's father, Stephen McGinty, appealed directly to him: "Jordan, please get in touch with somebody, let us know that you are safe and well. Everybody is worried about you.
"If anybody has any contact or has Jordan staying with them, then please come forward. I would like to appeal to the public, especially around the Cardonald College area last Tuesday morning around about 08:30 hours onwards.
"If anyone has seen Jordan at about that time, then please don't hesitate and please contact the police. We would also like to thank everybody for their help and support."
Jordan's mother, Alison, and his aunt, Victoria McGinty, 30, also expressed their concern, saying not to hear from him was out of character.
They described him as a very well loved member of the family, with an older sister, Lisa, 22, twin sister, Jade, 20, and younger brother, Craig, six.
His brother and sisters are said to be "devastated" that he has not been in touch in one week.
Jordan was last seen leaving for Cardonald College where he is studying to become an electrician.
His parents said that morning was like any other and there was nothing out of the ordinary in Jordan's behaviour.
He had overslept slightly but otherwise everything was as normal.
Jordan is said to be a keen gamer and was looking forward to a new game being released next week.
Police have spoken to family, friends, lecturers and students and said there was nothing to indicate that Jordan had any reason to go missing.
Insp Paul Quinn said: "Jordan's family are clearly very distressed and concerned for his wellbeing. I would ask anyone who may have any information about Jordan or who may have seen him in the last week to please get in touch with us.
"I am concerned that the last positive sighting we have of him was leaving Aros Drive at around 08:30 last Tuesday and if anyone has any knowledge on his whereabouts, in particular, around the Mosspark or Cardonald College area, please do contact us.
"Jordan's family are understandably very upset by his disappearance and any information, no matter how insignificant it may seem to you, could prove very useful in our efforts to trace Jordan."