Stab death man guilty of murder in Ayrshire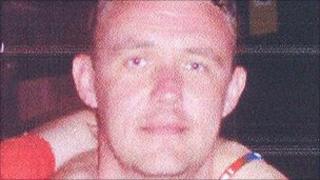 A man has been convicted of murdering the father of his girlfriend's son in a knife attack in Ayrshire.
Stephen Broadfoot, 27, stabbed victim Grant Muirhead in the back and sliced his throat in the New Year's Day killing in Irvine.
He claimed he did not realise he had stabbed his victim and the killing was in self-defence. He will be sentenced later this month.
The High Court in Kilmarnock heard that Broadfoot was living with Aimee Dickie, 31, and her eight-year-old son, whose father was Mr Muirhead.
On Boxing Day, just six days before the killing, Miss Dickie had fallen out with Broadfoot and they had a physical fight.
Blood on knife
Mr Muirhead, who was with another man, saw she was upset and asked what Broadfoot had done to her.
Miss Dickie told the police: "They said, 'We'll deal with this. Tell him from us he's getting it."
Mr Muirhead came to the door of Broadfoot's house on 1 January.
Broadfoot, who is a cousin of Rangers striker Kirk Broadfoot, went into the kitchen and took a knife from the block.
Miss Dickie said when he returned inside the house "he had the knife in his hand and there was blood on the knife".
Broadfoot was found guilty by a majority of murdering Mr Muirhead, by repeatedly striking and stabbing him on the head and body.