Auditor General Robert Black announces his retirement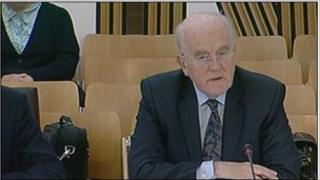 The auditor general for Scotland, Robert Black, has announced that he intends to step down.
He has written to the presiding office stating he wishes to retire from the position he has held since 2000.
Mr Black is Scotland's first auditor general.
Mr Black was appointed to the post by the Queen in February 2000, on the unanimous recommendation of the Scottish Parliament, shortly before Audit Scotland was formed.
The auditor general position for Scotland was established by the Scotland Act, which created the Scottish Parliament.
Mr Black is expected to remain in his post until his successor is appointed, which is likely to be in spring 2012.
He said: "It has been an enormous privilege and honour to hold the role of auditor general for Scotland for the past 11 years.
"It has been a challenging and hugely rewarding time, covering the early years of devolution, the growth of Scotland's public sector and, more recently, the onset of fiscal austerity arising from the global financial crisis.
"With the support and involvement of the Parliament and in particular the Public Audit Committee, we have created in Scotland an effective regime for scrutinising public spending, but at the same time this regime is also designed to help and support improvement across the public sector.
"I believe that we have created a robust model of public audit in Scotland."
Prior to becoming Auditor General, Mr Black was a local authority chief executive for ten years, first with Stirling District and then with Tayside Regional Council until just before its abolition in 1996.
He then moved to be controller of audit and chief executive with the Accounts Commission.