Probe after youth in Motherwell tower block film stunt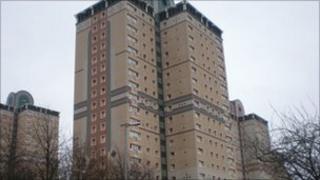 An investigation has been launched after a youth filmed himself on top of a 170ft (52m) tower block.
Police and council officials are trying to trace two men involved in a video which was shot at Dalziel Tower in Motherwell, North Lanarkshire.
At one point in the minute-long Youtube clip the cameraman appears to stumble and scramble to keep his balance.
Police said the pair were very lucky as they could have been seriously injured or could have died.
It is understood the youths gained access to the steeply sloping metal roof by breaking locks on the upper floors.
In the film the cameraman also slides to the edge of the guttering and films straight down. Throughout the second youth stands inside a hatch and is heard trying to coax his friend back down.
Sgt Alan Coote from North Lanarkshire Community Safety said: "Enquiries in to the incident are continuing. This was not a very sensible thing to do.
"Their actions could have had an impact on the residents or those in and around the blocks of flats.
Des Murray, property services manager with North Lanarkshire Council, said, "When we became aware of the situation, our officers immediately inspected the tower and discovered damaged locks. While the access doors to the roof space were found to be secure, we're extremely concerned by this vandalism.
"The behaviour demonstrated in the footage is extremely irresponsible, as well as criminal, and with the footage provided we hope to take direct action against those responsible."
He said the damaged locks had been replaced and as a further precaution all similar locks at the tower were being renewed.