John McCowan admits killing Christopher Knox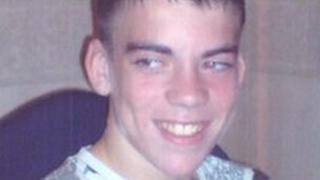 A teenager has admitted killing a 17-year-old schoolboy who was stabbed to death in Greenock, Inverclyde.
John McCowan, 17, is charged with murdering Christopher Knox in June.
At the High Court in Glasgow, he pleaded guilty to the reduced charge of culpable homicide - but his plea was not accepted by the Crown.
He appeared with co-accused David Rice, 18, Sean O'Neill, 19, David Paton, 17 and Adam Johnstone, 16, all from Greenock, who deny murder.
Christopher, from the town's Crisswell Close, died in hospital after being stabbed following a disturbance in Kylemore Lane on 10 June.
Plea tendered
The court heard that he was a witness in an assault and robbery case against David Paton.
It is alleged that all five accused, in a bid to intimidate Christopher and prevent him giving evidence, acted in an aggressive manner towards him, said he had "grassed", threatened him with violence, challenged him to a fight, chased him, repeatedly punched and kicked him on the head and body and struck him on the body with a knife and murdered him.
All five accused deny murdering Christopher.
During the preliminary hearing on Friday, defence QC Brian McConnachie, representing Mr McCowan, said: "I have instructions to tender a certain plea.
"He is willing to plead guilty to the charge under deletion of murder and the substitution of killing."
Mr McConnachie added: "I'm not saying he accepts everything which is in the narrative of this charge."
Advocate depute Peter McCormack, prosecuting, refused to accept the plea.
Mr McCowan is also accused of attempting to defeat the ends of justice by cleaning the blade of the knife allegedly used in the crime and allegedly instructing Scott Irvine to tell police that he was at home all night and nothing had happened.
Judge Lord McEwan continued the case until next month for a further preliminary hearing.