March in memory of murdered school boy Jon Wilson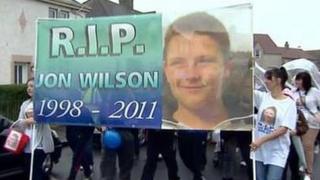 A march has taken place in Kilmarnock in memory of a 13-year-old boy who was murdered in the town last month.
Jon Wilson, from Gateside Place, was found seriously injured following an incident in Queen's Drive in the early hours of 4 September.
He died of his injuries in hospital the following day.
The march was organised by his family and friends and began outside his home with a speech from the head teacher of his school, Kilmarnock Academy.
The 13-year-old was a second year pupil at Kilmarnock Academy and his death shocked the local community.
Two people have appeared in court following the schoolboy's murder.
Jordan McCreadie, 16, from Irvine and Mark Hamilton, from Kilmarnock, are both charged with robbery and with assault to injury with intent to rob.
Mr McCreadie is also accused of the murder of Jon Wilson and of breaching bail conditions.
Kilmarnock Academy Head Teacher Bryan Paterson said after the rally: "The community are saying this is totally unacceptable.
"I've come back to Kilmarnock after being away for about 25 years and it's a marvellous place to be.
"Look at the community here. They are saying 'enough is enough'."