Ryan Ferguson bone marrow appeal attracts 1,074 donors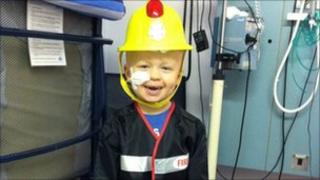 More than 1,000 people turned out at a bone marrow appeal clinic for a three-year-old boy who was diagnosed with leukaemia in August.
Ryan Ferguson, from East Kilbride, urgently needs a transplant.
He and his family may have to wait more than four weeks for the bone marrow samples to be tested, in the hope a match is found.
Ryan is currently undergoing chemotherapy. He has been in isolation for almost four weeks.
Testing time
Stuart Ferguson, Ryan's father, said: ''The clinic fast-tracks samples from males who are aged between 18 and 30 by four weeks and for everyone else testing takes 12 weeks.''
The clinic saw 1,074 people turn out to join the Anthony Nolan blood cancer register.
Mr Ferguson said: ''I would just like to say thank you to everyone involved.
''To anyone who never made it along, please go to www.anthonynolan.org and request a spit kit to join the register.
"People don't realise how simple it is to register as a bone marrow donor.
''Eighty per cent of bone marrow matches come from males who are aged between 18 and 30, yet only 12% of males are registered.''
Mr Ferguson is also urging anyone of this description to register with the Anthony Nolan clinic.
He added: ''It is that easy to save a life."