Inquiry critical of four men who drowned in Loch Awe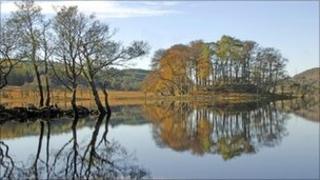 A fatal accident inquiry has found that four men who drowned in Loch Awe had been drinking, were poorly equipped, and did not take safety precautions.
William Carty, 47, his brother Steven, 42, Thomas Douglas, 36, and Craig Currie, 30, fell from a small boat in the early hours of 21 March 2009.
Their boat is believed to have capsized in heavy fog as they returned from a pub on the other side of the loch.
The alarm was raised by a fifth man who had stayed behind at their campsite.
The inquiry, under Sheriff Douglas Small, took place at Oban Sheriff Court between June 2010 and January 2011.
Safety measures
Publishing his findings, the sheriff concluded the men, all from Glasgow, died due to "cold water immersion".
Sheriff Small said he could not make any specific findings about what caused the incident, as the boat had not been recovered.
He said, however, that the deaths might have been avoided if the men "had been wearing fully functional and properly secured and fitted life jackets".
The sheriff said they might have lived if they "had taken responsibility for their own safety and had taken into account the prevailing weather conditions, the lack of visibility and potential hazards on Loch Awe before embarking in their boat onto the loch".
Sheriff Small said the men's deaths could have been avoided if they "had returned to the Tight Line public house to obtain a lift back to their campsite" and had phoned the emergency services from the boat in addition to their friend, Edward Colquhoun.
He also found that the men might have lived if they "had not consumed alcohol prior to taking the collective decision to take their boat onto the loch".
Sheriff Small also highlighted a number of circumstances which were of relevance to the tragedy.
He said there was "no register of local assistance available to be called upon by the rescue services at the time of the accident" and there "were communication difficulties for the emergency services in attendance".
Sheriff Small said individual crew members of Strathclyde Fire Service were not personally equipped with life jackets at the time of the accident.
He also noted that the first members of the fire service to arrive at the scene "did not source and communicate to their boat crew a suitable launch site".
'Local assistance'
The sheriff also highlighted that the fire service's boat "was not equipped with physical markers to assist in identifying accurately those areas of the loch where debris and the bodies of Craig Currie and William Carty had been retrieved".
Sheriff Small recommended that Strathclyde Police set up a "register of local assistance" which includes the names of people and equipment which can be called upon in an emergency rescue situation.
He also said a police radio should be provided to Maritime and Coastguard personnel during an emergency and that all Strathclyde Fire Service vehicles should be equipped with a life jacket for each individual crew member.
Sheriff Small recommended all fire service boats "carry markers to assist in identifying areas of water from which debris or bodies of deceased are located".
He also called for a communications protocol to be drawn up for emergency rescue operations in water which covers the boat crew and those crews in attendance at the incident.
Sheriff Small said: "The inquiry found no evidence to suggest any criticism of the emergency services or the systems of work employed by them at this very tragic accident.
"Their individual responses and the manner in which they carried out their duties in extremely difficult conditions were commendable."
Speaking after the inquiry findings were published, Strathclyde Fire and Rescue assistant chief officer David Goodhew said: "The deaths of these four men was a tragedy and our thoughts are with their families today. We hope the publication of the FAI helps bring a sense of closure for them.
"Our crews deployed on to Loch Awe in appalling conditions and searched for these men despite extremely poor visibility and no clear indication of their location. Despite the best efforts of all emergency services involved, we were unable to successfully complete a rescue.
"We are committed to continually improving and strengthening our service and we are working to fully implement the recommendations made by the sheriff.
"As part of this, we will continue to work with police and other emergency services to strengthen and enhance inter-agency relationships.
"This tragedy underlines the importance of being safe around water. Our advice is that if you or someone with you gets in to trouble on or around water, call 999 immediately."