Controversial Braidbar Quarry homes plan dropped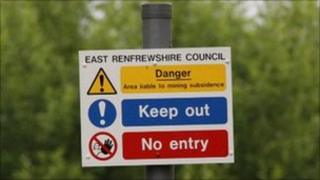 A controversial proposal to build up to 155 new houses on the site of a former quarry in Giffnock has been dropped due to finance and planning problems.
East Renfrewshire Council and Macdonald Estates hoped to stabilise old mine workings at the fenced-off Braidbar Quarry site and return it to use.
But a Scottish government reporter ruled the land could not be developed under the council's local plan.
That decision and funding problems has now put the plan "into the long grass".
The Braidbar quarry produced much of the grey sandstone used in Glasgow tenements in the 19th and early 20th centuries.
However, the quarry has been abandoned for many decades.
Local objections
The proposal to build houses would first have needed 800,000 cubic metres of water to be drained from the flooded mine.
The plan was to then excavate down 45m to the base of the 15m high workings and employ reverse mining techniques to stabilise the failing rock.
In excess of 2 million cubic metres of rock and clay would require to be moved.
The housebuilding plan had attracted hundreds of objections from local people, many of whom were against plans to close the adjoining Huntly Park for up to two years while the development proceeded.
The decision by the government's planning appeals reporter in 2009, however, and the resulting economic downturn has meant that the project is no longer viable.
The reporter stated: "I conclude that the proposed remedial works and redevelopment of the site would be likely to have significant adverse effects on the current uses on the site, and to some extent on the surrounding area."
Kevin Robertson, managing director of Macdonald Estates, said: "Having developed a thorough technical solution and method of stabilising the redundant quarry over a number of years we are disappointed that we are unable to take the project forward.
"However, the reporter's decision not to include the land for development in the local plan, coupled with the lack of availability of project funding, have made it uneconomic for us to continue to promote the project at the present time."
Councillor Jim Fletcher, leader of East Renfrewshire Council, said: "The land at Braidbar is unfit for developing and is so unstable it is unsafe to walk on.
"This proposal would have brought this land into use for future generations and helped avoid the potential harm that keeps many of us awake at night.
"We are still reeling from the unexpected decision of the reporter that this proposal couldn't go ahead.
"With a credible and workable plan on the table it is astonishing that a decision to leave this ground in its unsafe state would be the reporter's preferred choice."