Uladzimir Barysiuk given 12 month 'neglect' suspension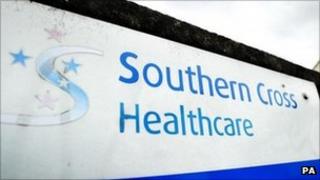 A nurse who put residents and staff at an Argyll and Bute care home at "serious risk" by leaving his shift early has been suspended for 12 months.
Uladzimir Barysiuk, 54, left Balvaird Care Home, Helensburgh, at 20:05 - 55 minutes early - on 27 July 2009.
The Nursing and Midwifery Council heard this left no other suitable qualified staff to make clinical decisions, hand out medicine or manage care assistants.
The charge was found not serious enough to merit Barysiuk being struck off.
The hearing of the Nursing and Midwifery Council's Conduct and Competence Committee took place in London.
It examined the conduct of Barysiuk at the care home which is part of the now collapsed Southern Cross Healthcare group.
'Had enough'
It was told that Barysiuk was the nurse in charge of the day shift, which was due to end at 21:00.
His role included making clinical decisions, administration of medication and line management of the health care assistants on that shift.
Colleagues told the hearing that Barysiuk said he needed to leave before 21:00 as he was expecting guests at his house.
He is also said to have told a colleague in a phone call that he had "had enough".
During a subsequent investigation, Barysiuk claimed he had been suffering from a headache at the time.
The committee ruled, however, that he had been guilty of "serious misconduct" by leaving the home early, without a proper handover to a suitably qualified nurse, and by leaving keys to a medicine store in an unlocked drawer where they could be accessed by unqualified staff and residents.
It said a 12 month suspension from the nursing register was an "appropriate and proportionate sanction" and that Barysiuk should have the chance "to show insight and demonstrate an understanding of the seriousness of his actions" before any future restoration.