Neil Lennon 'parcel bombs' accused appear in court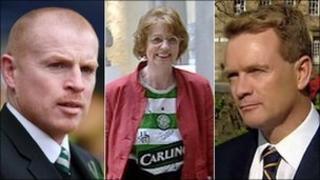 Two men accused of a plot to kill Celtic manager Neil Lennon and two high profile fans of the club have made a second court appearance.
Trevor Muirhead, 43, and Neil McKenzie, 42, deny sending suspected parcel bombs to Mr Lennon, leading QC Paul McBride and ex-MSP Trish Godman.
They appeared for a second preliminary hearing at the High Court in Glasgow.
Both accused will be represented at their trial next month by top QCs Donald Findlay and Gordon Jackson.
When Mr McKenzie appeared in court on Thursday, he had two lawyers and two sets of junior counsel present.
Judge Lord Glennie was told by Donald Findlay QC that lawyer Brian McCluskey had the legal aid certificate for Mr McKenzie and solicitor Matthew Berlow had instructions from him.
Mr Findlay said: "I am only here to assist the court. I'm Pontius Pilate at the minute washing my hands until we find out where we are."
The Biblical references continued, with Mr Findlay comparing Lord Glennie to King Solomon.
Mr Findlay said: "To stretch the Biblical analogy a tad further if I am Pontius Pilate then you My Lord are Solomon."
Lord Glennie asked Mr McKenzie which lawyer he wished to represent him.
The accused stood up in the dock and said: "Mr Berlow."
Mr Findlay then told the court: "In the circumstances I can now indicate that I appear on his behalf."
Lord Glennie continued the preliminary hearing for a week and said: "This will allow the legal aid board to take this on board. I very much hope the matter of legal aid will be resolved by then."
Explosive substance
Mr McKenzie and Mr Muirhead, who is represented by Gordon Jackson QC, are alleged to have sent suspected parcel bombs to Mr Lennon, Mr McBride and Ms Godman.
The packages are said to have contained a potentially deadly mixture of nails, an explosive substance or petrol.
The pair are alleged to have planned to "assault and murder" their three intended victims between 1 March and 15 April this year as part of a sectarian conspiracy.
It is claimed that at two shops in Stevenston, North Ayrshire, they bought nails, envelopes, travel bottles, digital sports watches and other items.
Mr Muirhead and Mr McKenzie are said to have acquired cream peroxide after inducing another man to buy it on behalf of Gemma Muirhead.
They are then accused of posting a package to Mr Lennon at Celtic's training complex in Lennoxtown, East Dunbartonshire.
A plastic bottle with wires attached was said to have contained Triacetone Triperoxide, a plastic bag holding nails and a watch component.
It is claimed the accused believed it to have been an improvised explosive device (IED) capable of causing "severe injury and death".
Similar packages are alleged to have been sent to Mr Lennon's QC, Mr McBride, at the Advocates' Library in Parliament House, Edinburgh, and to former politician Ms Godman at an address in Bridge of Weir, Renfrewshire.
The charge claims the accused sent another suspected bomb to the offices of Cairde Na h'Éireann (Friends of Ireland) in Gallowgate, Glasgow.
Religious prejudice
Mr Muirhead and Mr McKenzie face an alternative allegation contrary to the Explosive Substances Act of "unlawfully and maliciously conspiring" to endanger life or cause serious injury.
They face a separate allegation of dispatching an item on 3 March to Mr Lennon at Celtic Park with the intention of inducing him to believe that it would "explode or ignite".
All the accusations are said to have aggravated by religious prejudice.
Both men are further accused on 9 May in Kilwinning, North Ayrshire, of threatening to plant an IED outside a police station knowing the bomb allegations were being investigated.
They are then charged with attempting to defeat the ends of justice by disposing of a quantity of cream peroxide and wiring at a place in Ayrshire.
The accused are finally alleged to have made and possessed Triacetone Triperoxide with the intent to endanger life.
Both men deny all the charges against them and trial has already been set for next month.