Police hit back at Braehead photo row dad Chris White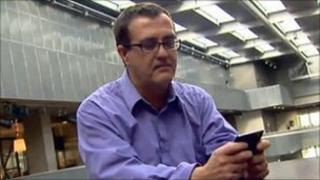 Police have disputed a man's claim that he was questioned for taking a photograph of his daughter at Braehead Shopping Centre in Renfrewshire.
Chris White said police took his details after he took snaps of his four-year-old daughter Hazel on Friday.
The centre eventually apologised after an online campaign to boycott it.
Police said they could not support Mr White's account of events and said he was spoken to over a "specific concern" about his behaviour.
However, Mr White has denied any wrongdoing. The senior investigating officer confirmed Mr White had committed no crime.
Mr White previously told BBC Scotland that he was approached by a security guard after photographing his daughter "looking cute on the back of a vespa seat at an ice cream bar" at about 16:00 on Friday.
Police called
He said the security guard asked him to delete any photos he had taken from his mobile phone.
Mr White explained that he had already posted two photos, in which his daughter was the only person in the shot, to Facebook.
The police were called and Mr White was told there were "clear signs" saying no photographs were allowed.
He said the police officers took his details and he was eventually allowed to leave.
After details of the alleged incident appeared on social networking site Facebook, a campaign was launched to boycott the shopping centre.
Less than 24 hours after the story being reported, Braehead Shopping Centre apologised for any distress caused and said it was changing its policy on photography.
Strathclyde Police have now taken the "unusual step" of making the findings of their investigation into the incident public.
In a statement, communications director Rob Shorthouse said: "We are well aware that, as a result of this social media conversation, demonstrations are being planned this weekend at Braehead.
"We have also seen global media coverage of the incident - all of which has painted the shopping centre, this police force and, arguably, our country in a very negative light.
"It is because Mr White chose to seek publicity for his account of events and because of the planned demonstration that we feel compelled to take the unusual step of making our findings public."
Mr Shorthouse said officers had taken statements from a number of independent witnesses and viewed a "substantial amount" of CCTV.
"On reviewing all of this objective evidence, I have to tell you that we can find no basis to support the complaint which Mr White has elected to make," he said.
"The members of the public who asked for the security staff to become involved have told us that they did so for reasons which had absolutely nothing to do with him taking photographs of his daughter.
"They had a very specific concern, which I am not in a position to discuss publicly, that they felt the need to report.
"It was because of this very specific concern that security staff became involved."
Mr Shorthouse said security staff at the centre had asked for police involvement, and that officers had not confiscated any items or questioned Mr White under counter-terrorist legislation.
"It is wrong to suggest that the police spoke to Mr White because he claimed he had been photographing his daughter, or that officers made any reference to counter-terror legislation," he added.
"For the avoidance of any doubt, we have fully investigated this incident and we can say that none of the independent and objective evidence presented to us by either the members of the public or the CCTV backs up the claims made by Mr White."
Police indicated that no further action would be taken over the alleged incident.
Mr White said he had received a letter from the police but there was no mention of him committing any offence.
He added: "There's been no kind of concern about the effect on myself, my wife or my daughter."
A spokesman for Braehead Shopping Centre, said: "We cannot comment on the outcome of the police investigation.
"However, following our own investigations, Braehead stands by the actions of our member of security staff and by the actions we have subsequently taken."