Donald McIntyre bids to freeze £300,000 of Rangers cash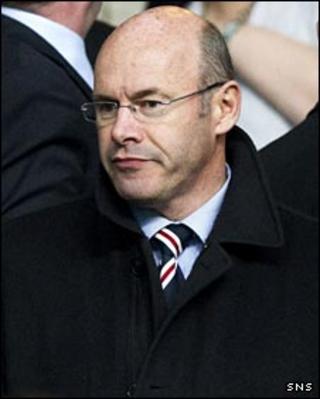 Former Rangers director Donald McIntyre has launched a legal bid to have £300,000 of the club's assets frozen pending a breach of contract case.
Lawyers acting for the former finance director made the application at the Court of Session in Edinburgh.
It was heard by Lord Hodge, who last month ring-fenced £480,000 over a case by former chief executive Martin Bain.
During that hearing, the judge said Rangers were at "risk of insolvency" over tax claims against the club.
Mr McIntyre resigned as Rangers' finance director earlier this week - five months after being suspended, along with Mr Bain, by the Scottish champions.
Tax claims
He took the decision to resign over his exclusion from matters of corporate governance.
Mr Bain launched a legal action against Rangers last month for breach of contract.
The club is contesting the action and has lodged a counter claim against him for damages alleging breach of fiduciary duty, which he denies.
During Mr Bain's move to freeze assets at Rangers, ahead of his case being heard, Lord Hodge was told that the club was facing two tax claims.
One was for £2.8m, while the other was for £49m - comprising £35m of tax and a further £14m in interest and penalties, which is under appeal.
In granting Mr Bain an arrestment for £480,000, Lord Hodge said: "I am satisfied that there is a real and substantial risk of insolvency if the tax appeal were to be decided against Rangers."
Mr McIntyre is bidding to secure an arrestment in his case for £300,000 - the same sum he is seeking from Rangers.
The Ibrox club was not represented at the hearing and the motion, which was heard with the press excluded from proceedings, was continued until next week.