WWI soldier's remains are Scots born Alexander Johnston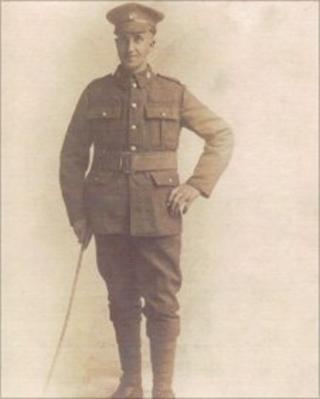 A Scots-born Canadian soldier who was killed less than two months before the end of World War I is to be buried 93 years after his death in France.
Private Alexander Johnston died, aged 33, during the Battle of the Canal du Nord in northern France in 1918.
His remains were discovered near the battlefield in 2008 and his identity established through DNA testing.
The soldier, born in Coatbridge, will be reburied in a Commonwealth War Graves Commission cemetery next week.
Private Johnston moved to Hamilton, Ontario, in his late 20s and joined the 78th Battalion, Canadian Expeditionary Force, in January 1918.
Nine months later, he was killed during The Battle of the Canal du Nord.
Following his death, relatives of Private Johnston did not know the whereabouts of his grave.
Collar badges
In July 2008, human remains were discovered in Raillencourt Saint-Olle, less than a mile from where the soldier was killed.
Found with the remains were two collar badges of the 78th Battalion (Winnipeg Grenadiers).
In March this year, these remains were identified, through mitochondrial DNA testing and historical research, as those of Private Johnston.
Three members of Private Johnston's Canadian family have travelled to France for the reburial on 25 October.
His Scottish relatives are due to leave for France on Thursday.