Auditor says SPT has improved after expenses scandal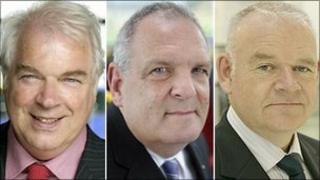 Scotland's largest transport authority has made "significant progress" following a damaging expenses scandal, a watchdog has found.
The Accounts Commission said tighter controls had been introduced since three Strathclyde Partnership for Transport (SPT) officials resigned.
They stood down last year after it emerged SPT had spent more than £100,000 on expenses and foreign trips.
The commission said SPT's progress since then was "to be welcomed".
Controversy engulfed the transport authority in February last year when documents obtained under Freedom of Information showed its officials claimed more than £100,000 in expenses between 2006 and 2009.
Uefa Cup
The organisation was criticised when it emerged that several officers and elected officials had gone on expensive "fact-finding" foreign trips.
There were also questions about expense claims from officials who had organised a meeting with Greater Manchester Passenger Transport Executive on the day of the Uefa Cup final in 2008 between Rangers and Zenit St Petersburg.
As the scandal gathered pace, Glasgow Labour Councillor Alistair Watson stood down as SPT's chairman for health reasons.
He was followed by South Lanarkshire Labour councillor Davie McLachlan, who resigned as vice chair, and Ron Culley, who stepped down as chief executive.
In May, it was confirmed that SPT's communications director Bob Wylie had left his post before it was due to be cut in a management shake-up.
Mr Wylie had been one of the officials to claim expenses over the meeting in Manchester in 2008.
A subsequent audit by KPMG, published in June, said the organisation's former management had claimed "excessive" expenses and that credit card receipts had been "shredded".
The auditor's report said £32,000 spent on SPT's corporate credit card remained unaccounted for.
It also suggested a three-day trip by management to Manchester in 2008 had been arranged to coincide with Rangers' Uefa Cup final appearance.
Almost £40,000 was also spent on trips to New York, India and Dubai.
A report last year by the Accounts Commission found "serious deficiencies" in the way travel expenses were controlled and managed at SPT.
It said there appeared to be a culture among some senior elected members and officers that "fell well short of what is expected of those holding public office and overseeing public funds".
Following a critical KPMG report, SPT approved an action plan to tighten expenses controls.
The latest Accounts Commission review found that the organisation had made welcome progress.
John Baillie, chair of the Accounts Commission, said: "Last year we found serious deficiencies in the way SPT managed and controlled travel expenses.
"We were also concerned about the culture and behaviour by some of its most senior elected members and officers in relation to trips and expenses.
"However SPT took the matter seriously and initiated improvements. It has made significant progress against its action plan and this is to be welcomed."
The commission's report also noted that SPT had recovered £290 from Mr Wylie over the Manchester meeting prior to the KPMG probe last year.
'Reasonable decision'
The commission said it had backed proposals last year to "recover the remaining £1,205 of potential personal and excessive costs" but accepted this was not practical or cost effective on legal grounds.
Mr Baillie added: "It is also clear that SPT has taken appropriate steps to consider the case for further recovery of potentially personal and excessive costs.
"It has taken a reasonable decision in the circumstances, based on legal advice, not to pursue the matter."
SPT chairman Jonathan Findlay welcomed the updated report, saying it "acknowledges the significant improvements that have been made by SPT".
Mr Findlay added: "Internal controls have long been tightened and all members and directors' expenses are now published online.
"Over the past year we've streamlined the organisation and delivered £3m worth of savings, all while ensuring we are better focused on delivering for the public we serve."
He said that SPT was now "pressing ahead" with major projects, such as the modernisation of Glasgow's subway, to help "provide a much-improved transport system across Strathclyde".