Car belonging to missing Lynda Spence seen in Ayrshire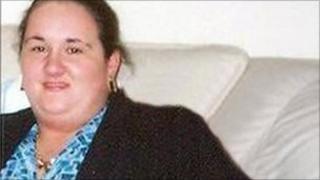 Police investigating the disappearance of a missing financial advisor who they believe may have come to harm have had a number of sightings of her car.
Lynda Spence, 28, was last seen at her parents' home in Glasgow Harbour on 13 April. The next day she sent her mother a text saying she had gone to London.
Police said Ms Spence's car, a silver Vauxhall Astra, had since been seen in North Ayrshire and Argyllshire.
Detectives have asked anyone with any information to contact them.
Ms Spence, who is also known as Lynda Zefaj, Lynda Palmer and Lynda Reilly, ran a business, Fraser Developments, which mainly arranged mortgages.
Financial difficulties
Not long before she went missing, the company experienced difficulties when several deals fell through.
She told people in June last year that she was "in severe financial difficulty", owing money to several people. It is understood Ms Spence owed tens of thousands of pounds.
Det Sup Alan Buchanan, who is leading the investigation, said officers believed Ms Spence had come to harm because of the length of time she has been missing.
Strathclyde Police said her silver Vauxhall Astra car, with the registration number DV56 FKW, has been seen in parts of North Ayrshire and Argyllshire.
Det Insp Sandy Nelson, from the force's major investigation team said: "Following on from the many appeals that we have made to the public and the media we have information that would suggest that Lynda's vehicle has been seen in the local areas of North Ayrshire and Argyllshire, specifically around late April or very early May.
"I would ask local people in these areas to cast their minds back a few months - did you see the car in Seamill, West Kilbride or Tighnabruaich in late April or early May? I would urge anyone with information to contact us as a matter of urgency."
The same vehicle was spotted on the A77 at Floak, Ayrshire, a week after Ms Spence disappeared, on Wednesday 20 April. It is not known why Ms Spence would have been in that area.
On 2 June this year a member of the public found an old mobile phone belonging to Ms Spence in a wheelie bin outside the Lunchbox Shop in Kilbirnie, North Ayrshire.
It is believed the phone was put in the bin between 11:00 and 13:00 that day.