Salmond takes it to the 'max'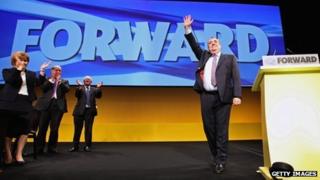 On opening the SNP conference, Alex Salmond appeared to be calling upon divine intervention. (See Friday's post for a more earthly explanation.)
In his main address, the first minister contrived to sound a fraction - just a fraction - Churchillian.
The SNP's advance, he told cheering delegates, had not arrived through luck. It had not been easy. Rather, it had emerged from "hard work, from toil and from sweat".
Prior to that oblique quasi-quotation from one of Dundee's most prominent MPs, Mr Salmond's address was carefully structured.
Firstly, he dealt at length and in depth with popular concerns over the economy, announcing investment in marine energy and enhanced plans for apprenticeships.
Why that first rather than independence? Because these are worthwhile and important concerns in their own right.
But, secondly, because the independence argument is placed deliberately in the context of such prior effort.
Legitimate proposal
As billed here before, the SNP strategy remains to govern as sensibly - and popularly - as possible within the confines of devolution while simultaneously inviting the voters to look towards independence.
There was a second element of linguistic choreography.
Mr Salmond recalled that the SNP had two fundamental aims: independence plus the furtherance of Scottish interests.
It seemed to me that he translated that into his plans for the referendum, indicating again that there could well be a second question on full fiscal powers within the Union - devo max.
That, argued Mr Salmond, would be a poor second best. But it was a "legitimate" proposal.
The FM's political opponents beg to differ.
Regardless of their varying views upon enhancing Holyrood's powers, they say there should be a straight Yes or No referendum upon independence. And it should be held now.
But, of course, it remains open to the UK government to call such a referendum, under their own terms.
Devo max
As The Scotsman attests today, there are one or two voices whispering such a prospect in the PM's ear.
Equally, there are others who say "don't be daft" - or the diplomatic equivalent thereof.
A Tory PM ordering a referendum in Scotland against the explicit wishes of the Scottish government?
Just the thing to embolden Scots to vote for independence, perhaps.
However, is there not an underlying problem with the two question referendum?
If Scotland votes for devo max, who would implement that?
The UK government which will not have given its consent to that question being posed?
In response to that, Mr Salmond offers a political rather than a governmental answer.
If the people of Scotland have stated their wish - for independence or devo max - then they are entitled to have that wish respected.