Prosecutors seize £46,000 from jailed drug dealers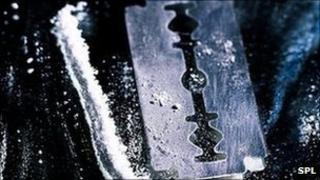 More than £46,000 has been seized from two convicted drug dealers under proceeds of crime legislation.
Confiscation orders for £24,624 and £21,900 were granted against William Henderson, 48, and John Ashcroft, 42, at the High Court in Edinburgh.
Henderson, from Bishopbriggs, East Dunbartonshire, is serving seven years and nine months for drugs offences.
Ashcroft, from Wishaw, North Lanarkshire, is serving six years and eight months for drugs crimes.
Henderson was caught after being discovered transferring large sums of money.
Cocaine blocks
This resulted in a police raid at his home where officers found a large drugs factory, containing 26 kilos of diamorphine and two kilos of cocaine.
He was jailed in February after pleading guilty to being concerned in the supply of drugs.
Ashcroft was caught after being stopped by police on the northbound M74 in January this year.
A search of his vehicle recovered a bag containing four kilo blocks of cocaine and Ashcroft admitted transporting the drugs from Liverpool.
Police recovered a further 8.65 kilos of cocaine and 69 kilos of a mixing agent within the kitchen and garage of Ashcroft's home address as well as nine mobile phones, scales and gloves.
He was jailed in June after pleading guilty to being concerned in the supply of drugs.
'Criminal enterprises'
Lindsey Miller, head of the Serious and Organised Crime Division, said: "Both of these individuals were apprehended in the process of transporting drugs or money, paying testament to the vigilance of our police forces and the determination with which all in the justice system pursue those who deal in illegal drugs.
"Not only will we prosecute offenders to the full extent of the law, we will seek to confiscate any proceeds from their criminal activities and lifestyles.
"We will continue to work with police and other agencies to disrupt their activities, prevent them reinvesting their profits, and use all of the powers at our disposal, to make it very difficult for them to carry out their criminal enterprises."