Kittens found tied up inside plastic bags in Bellshill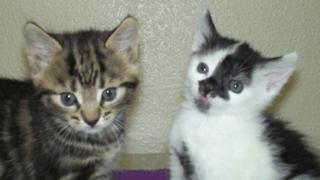 Two kittens have been found tied up inside plastic bags in separate incidents in the same area of North Lanarkshire.
They were found in Belshill in the same type of Aldi carrier bags, within five days of each other.
It is thought one of the kittens had been inside the bag for at least eight hours.
The Scottish SPCA is investigating whether the two cases are linked. The animals will now be rehomed.
The kittens, named Dora and Diego, have been fostered in the meantime.
Dora, a three-week-old black and white female, was found on Tuesday 18 October. She had been tied up inside a blue plastic bag which had been placed inside an Aldi carrier bag and dumped near a footpath on Clydesdale Road.
SSPCA Inspector Sam McDonald said: "This wee girl was really stressed out, which is no wonder because we think she had been trapped inside that bag for at least eight hours, maybe more.
"The man who discovered her saw the carrier bag in the morning and didn't think anything of it, but when he returned home in the evening he saw the bag moving and realised there was something inside.
"He took Dora out and kept her warm next to a radiator in his home until I arrived."
He added: "The kitten must have scratched some holes in the bag, otherwise she would have suffocated to death in that time.
"It's a terrible shame because she is perfectly healthy otherwise. No animal deserves to be left to die like that."
Soaking wet
Diego, a six-week-old male, was found on Sunday, again inside an Aldi carrier bag, at McCourt Gardens.
Ambulance Driver Kerry McGuire rescued the kitten after a woman found him.
Ms McGuire said: "We think Diego was left overnight as the lady said a neighbour had been walking their dog on Saturday evening and it was pulling towards the area where the kitten was later found.
"It had been pouring with rain and the poor little guy was soaking wet so there must have been some holes in the bag where rain and air could get in.
"When I picked him up he just snuggled in to me. He was no doubt traumatised by his ordeal.
"Thank goodness he was found when he was, he wouldn't have survived otherwise."
Anyone with information relating to the kittens or anyone interested in rehoming them should contact the Scottish SPCA.