Rajeev Singh jailed for £50,000 Glasgow bank fraud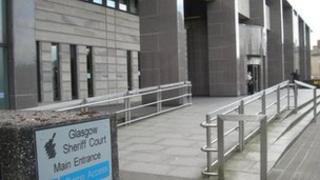 A man has been jailed for 160 days after defrauding almost £50,000 from a bank in Glasgow where he worked.
Rajeev Singh, 32, pleaded guilty to a scheme to defraud cash from Halifax Bank of Scotland, at Carmunnock Road, Glasgow, in September 2006.
Glasgow Sheriff Court was told that he deposited a cheque for £49,650 before transferring and paying out £40,000 to a man and woman.
The court heard that the remaining £9,650 has not been traced.
Specialist department
The court was told that Singh, from Govanhill, Glasgow, deposited the cheque for a woman before transferring the money into another type of account that he created.
When the woman later returned to the bank with another man - recognised by Singh - he then authorised £30,000 to be transferred into the man's account and £10,000 to be given to the female.
The cheque for £49,650 that was deposited by Singh, was drawn from another person's account that was already closed so the £40,000 he authorised was the bank's money.
The incident came to light when a specialist department of the bank spotted the account Singh had created and asked bank staff to investigate.
Paperwork linked him to the scheme and he was sacked as a result.
Defence lawyer Ian Brechny told the court his client was approached a few weeks earlier by a man linked to Imran Shahid, who killed teenager Kriss Donald.
He said Singh felt threatened and was worried something would happen to his family if he did not do what was asked.
Passing sentence Sheriff John Beckett QC said he accepted Singh felt a degree of pressure but had the opportunity to report this to the police.
He said: "I am not satisfied that community service would be an adequate means of reflecting the gravity of this crime and punish the accused for his involvement in it."
The sheriff added: "There is no alternative to a custodial sentence."