Sharkey fire murders: Funeral for Thomas Jr and Bridget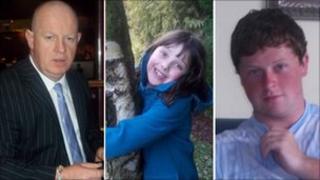 About 300 mourners have attended the funeral of a brother and sister who were murdered in a deliberate fire at their home in Helensburgh.
The Requiem Mass for Bridget Sharkey, eight, and her 21-year-old brother Thomas Jnr was held on Friday morning at the town's St Joseph's Church.
The siblings' father, Thomas Snr, 55, died on 30 July - six days after the fire at the family home in Scott Court.
The only survivor was the victims' wife and mother, 46-year-old Angela Sharkey.
Mrs Sharkey attended the mass with her 56-year-old sister, Margaret McKechnie.
The order of service said it was a "celebration of the lives of our precious Thomas Keith Sharkey and Bridget Margaret Sharkey".
'Messages of comfort'
Inside it said: "Angela and her family would like to express their sincere and grateful thanks to you for all the cards, flowers and many messages of comfort received since Thomas and Bridget went to the magic kingdom in the sky."
The family chose hymns including Dear St Joseph, Be Still and Know That I Am With You, As I Kneel Before You and I Watch The Sunrise.
These were sung and performed by the parish choir and pupils from Our Lady and St Patrick's High School, Dumbarton, where Thomas Jnr was a pupil.
Following the service, a private burial was held at Helensburgh Cemetery.
Police said the Sharkey family had asked that their privacy "be respected at this very sad time".