Strathclyde University opens new £36m drugs institute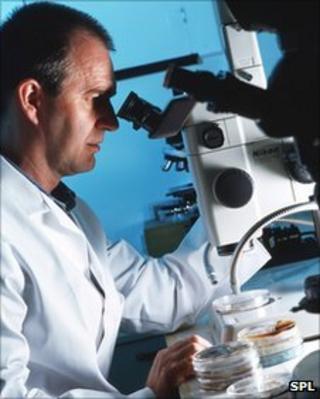 A £36m research institute dedicated to developing new medicines has been opened by Strathclyde University.
The facility, in Glasgow, brings together researchers in chemistry, biology and pharmacy.
They will work on new treatments for some of the UK's biggest killers such as cancer, heart disease and stroke.
The centre, which has a "clean suite" for handling and packaging drugs, will also work to develop new treatments for global diseases such as malaria and TB.
The university invested £28m in building the centre, with support from the Scottish Funding Council and the European Regional Development Fund.
The remaining £8m came from fundraising, with surgeon and television presenter Professor Lord Winston as patron.
'Global challenges'
Professor Jim McDonald, university principal, said: "The university's combination of research strengths in the chemical, biological and pharmaceutical sciences provides an unmatched academic centre in drug research.
"The investment in our advanced facilities will help our scientists find new and better treatments and reflects Strathclyde's commitment to finding solutions to the global challenges of the 21st century.
"By bringing together talented multidisciplinary researchers with colleagues in the NHS, business and industry, we are in the ideal position to accelerate the pace of research and translate it into products that benefit patients."
The centre was formally opened on Monday by Health Secretary Nicola Sturgeon.
"The University of Strathclyde already has a strong track record in pharmacy and biomedical sciences and the institute provides the perfect environment for multidisciplinary research," she said.
"It will allow the university to build on both its record of research excellence and history of successful interactions with industry in the development of new drugs."