Four men charged with murder of Lynda Spence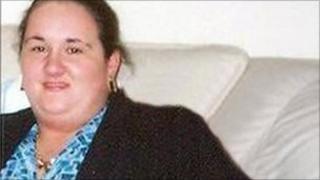 Four men have appeared in court charged with the abduction and murder of a financial adviser who went missing more than six months ago.
Lynda Spence, 28, has not been seen since April 13 when she left her parents' house in Glasgow Harbour.
Paul Smith, 45, from Largs and Colin Coates, 41, from Glasgow, appeared at Kilmarnock Sheriff Court.
Two others, Philip Wade, 40, from Glengarnock, and David Parker, 36, from West Kilbride, also appeared.
They were all charged with murder, abduction including assault and attempting to defeat the ends of justice.
It is alleged that, over a two-week period, they assaulted Ms Spence by cutting off her fingers and a thumb, striking her with a golf club, scalding her with an iron and failing to seek medical attention before killing her and disposing of the body.
None of the four made any plea or declaration and all were remanded in custody.
They are expected to appear in court again next week.