Occupy Glasgow protesters move to Kelvingrove Park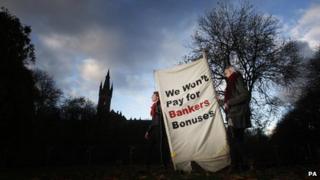 The last remaining "anti-greed" campaigners who have been occupying George Square in Glasgow have left the city centre and set up camp in a local park.
The Occupy Glasgow group held a small rally before marching to the new camp in Kelvingrove Park.
The protesters had been set a city council deadline of Monday to vacate the site.
The move to Kelvingrove was agreed after talks with the local authority.
The site was suggested as part of a deal to clear the square before Remembrance Day events.
On Thursday, the council secured a warrant at Glasgow Sheriff Court to eject protesters from the square no sooner than midnight on Sunday.
A spokesman said this would allow them "to maintain a presence while minimising disruption to the people of Glasgow".
The activists moved in on 15 October as part of a series of international occupations inspired by the global "anti-greed" movement.
Those involved in the protest have said they are campaigning to take the influence of money out of politics.