Govan and South Uist in twinning improvement scheme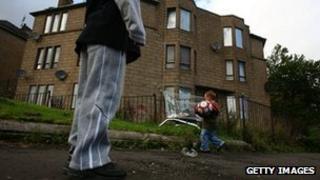 Two communities with deep-rooted social and economic problems are said to be bridging the urban-rural divide by forming a partnership.
People from Govan in Glasgow and South Uist in the Hebrides are developing a twinning scheme, supported by Oxfam.
The aim is to share ideas and experiences of how to create "opportunities" for both communities.
The two areas have high unemployment, a shortage of training opportunities, inequality and fuel poverty.
Members of the Lochboisdale Amenity Trust travelled from South Uist to visit projects in Govan on Friday.
The trust, where Oxfam's work is funded by the Postcode Lottery's Dream Fund, spent time at the Gal Gael scheme in Govan.
Sharing experiences
It uses the area's shipbuilding history to keep traditional skills alive and raise the confidence of socially and economically-excluded people.
A similar scheme may be established on South Uist.
The members also visited T-in-the-Pot, a drop-in centre for women in Govan, and Sunny Govan Radio, which has been broadcasting online for almost 10 years.
Tam McGarvey, from Gal Gael, said: "Sadly, many people in Govan feel it has become an island within Glasgow - cut off from prosperity, job opportunities and, all too often, hope.
"We know that can change and look forward to learning from the islanders from South Uist. We also hope they can learn from us."
Jim Boyle, from Oxfam Scotland, said: "The problems holding back urban Govan are remarkably similar to those facing rural South Uist. But while the challenges are often common, so too are many of the solutions.
"Individually, these communities are making real strides forward.
"We believe sharing their experiences and ideas can fast-track community empowerment and regeneration in both."
Crofter Megan MacDonald, 15, who was recently named Young Scot 2011, was part of the South Uist delegation.
She said: "It's easy to view the problems faced on South Uist as unique to us but when you speak to people in Govan it's clear that is not the case.
"Too many young people in both areas believe they need to leave to get up in the world. That's not right.
"I'm really hoping to learn from Govan, particularly about their radio station. It would be great to give the community on South Uist a stronger voice by developing our own."
Learning and Skills Minister Dr Alasdair Allan said: "The partnership between these two communities is both genuinely ground-breaking and community-led.
"There can be no doubt it will bring real benefits for both."