'Deliberate' fire closes M8 and cuts power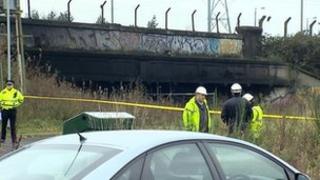 Police have said power cables were "deliberately" set on fire, closing the M8 motorway near Glasgow for four hours and leaving 50,000 homes in darkness.
Scottish Power said "malicious damage" to high-voltage cables caused the blaze in an underpass which led to the M8 near Braehead being shut on Monday.
The power company said it could not rule out cable theft as a reason for the damage.
Police said it was an "incredibly dangerous" thing to do.
Police and fire crews, along with electricity and gas engineers, were called to the blaze involving two high-voltage cables in an underpass on the A8 at about 20:30 on Monday.
The M8 motorway was shut between junctions 25 for the Clyde Tunnel and 27 at Arkleston after smoke blew across the road.
The road was reopened shortly after 01:00 on Tuesday.
The nearby A8 remained closed for a longer period and train services in the area were also affected.
Following an investigation by the fire service, Strathclyde Police said they were treating the cable blaze as deliberate.
Det Sgt Gordon McCrae said: "It would appear that the electrical cables in the disused underpass were set alight which resulted in damage and disruption.
"Why they have been set on fire has still to be established but it was an incredibly dangerous and very selfish thing to do.
"Not only did it cause a tremendous inconvenience and substantial cost, it put lives in danger."
Det Sgt McCrae said he knew the underpass was in use as there was fresh graffiti on the walls, and he urged anyone with information about the fire to come forward.
Scottish Power said about 50,000 homes and businesses were affected by power cuts, with the majority reconnected within 30 minutes.
The company was assessing the scale of the damage to the cables and said major repairs would be required.
Guy Jefferson, from Scottish Power Energy Networks, said: "We are working closely with the police and the fire brigade who are investigating the cause of the fire.
"All of our equipment appeared to be in good working order, which may suggest third-party interference.
"Our engineers worked flat out to get power restored to homes as quickly as they possibly could. We will continue to monitor it closely until full repairs can be carried out."