'Couldn't be bothered' PC Michele Selby wins appeal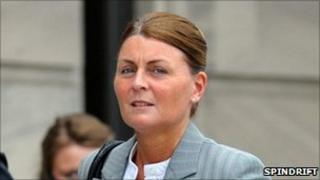 A former Strathclyde Police officer jailed for 12 months for attempting to pervert the course of justice has had her jail term overturned on appeal.
PC Michelle Selby "couldn't be bothered" arresting a suspected robber in Kirkintilloch.
The 38-year-old had been on her way to deliver letters to another police station at the time.
Selby's sentence has now been reduced to three years' probation and 240 hours of community service.
She had earlier been freed from prison, six days into her sentence, pending the outcome of the appeal.
Selby, who was tried at Glasgow Sheriff Court, resigned from the force after being found guilty.
She had failed to arrest a man who claimed to be fixing a restaurant door in Kirkintilloch at 05:30 on 26 July last year.
The court was told that Selby, from Cumbernauld in North Lanarkshire, took the man's details and did a background check before confiscating his tools.
She also told him she was aware he was trying to break in and "would be getting the jail" if the officers did not have another call to go to.
Selby later told a colleague, PC Michelle Maley, 23, that he would have been sent to prison if she "could be bothered".
In her evidence, Selby told the court she did not believe a crime had been committed but acknowledged that she "made a mistake".