Hamilton Accies fails to overturn John McCormack award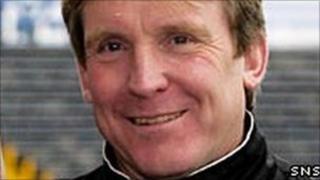 Hamilton Academical FC has lost a legal bid to overturn a £31,000 damages award to a former coach who won a wrongful dismissal claim following his sacking.
John McCormack sued the club after being dismissed in August 2008 for allegedly bullying players and sexually harassing a female colleague.
He won his case at the Court of Session in Edinburgh in September last year.
The club's claim that Mr McCormack was lawfully dismissed for gross misconduct was rejected by appeal judges.
Former footballer Mr McCormack, of Mount Vernon, Glasgow, who got his nickname "Cowboy" from a boxer, was manager at Dundee and Albion Rovers prior to taking on the role at Hamilton as assistant to Billy Reid.
During previous hearings the Lanarkshire club had maintained that he was lawfully dismissed for gross misconduct following several incidents.
'Inappropriate' remarks
These included alleged bullying of young players and offensive remarks made about and in the presence of physiotherapist, Jillian Galloway.
Judge Lord Woolman said Mr McCormack's conduct in the dressing room and remarks made to, and in the presence of, Miss Galloway were "wholly inappropriate", but he apologised to her, was not issued with a formal reprimand or warning and the behaviour was not repeated.
He also found the evidence that Mr McCormack had bullied some younger players at the club to be "unconvincing".
He said that all the incidents mentioned "taken together did not justify summary dismissal" and found in favour of Mr McCormack.
After hearing Hamilton's appeal, Lord Emslie, sitting with Lord Eassie and Lord Mackay, upheld the original ruling by Lord Woolman.
Lord Emslie said summary dismissal has to be regarded as "an exceptional remedy" calling for substantial justification.
He said: "We can well understand and sympathise with the reasoning which led him (Lord Woolman) to sustain the pursuer's claim of wrongful dismissal."
The appeal judge said Lord Woolman had concluded that the club had no legitimate basis for taking "the precipitate and exceptional course of summary dismissal".