Kimberley Hainey trial: Mum 'used son's toys for drugs'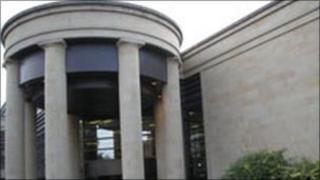 A woman accused of murdering her toddler son used his clothes and toys to buy heroin, a court has heard.
Greig Irving, 40, was giving evidence at the trial of Kimberley Hainey at the High Court in Glasgow.
He said Ms Hainey returned clothes and toys given to Declan as presents to buy drugs from January to March 2010 when he was allegedly lying dead in his cot.
Ms Hainey, 37, of Johnstone, Paisley, denies murdering Declan, concealing his body and pretending he was alive.
Mr Irving told the court that he met Ms Hainey, whom he had known for a few years, in December 2009 in Renfrew and they became friendly.
Drug allegations
By January 2010 she was living at his house most of the time.
Mr Irving told the jury that he helped Ms Hainey to buy heroin from a dealer.
Advocate depute Andrew Stewart QC asked: "How much heroin was she taking?"
Mr Irving said: "It was getting to the stage of every day. At first she would get £20 to £30 worth of heroin and then it started getting more and more as time went on."
Mr Stewart asked how she was paying for this and Mr Irving said: "With her benefits. She was also going up to her mother's house or her aunt's house and getting money from them.
"She was also getting what she said were doubles of Declan's toys and clothing with labels still on them and taking them back to the shops and getting money or vouchers for them and then buying heroin."
Mr Irving, who now lectures drug users in Renfrewshire about the dangers of addiction, told the court that he helped to return the toys and clothes to shops and then went with Ms Hainey to get heroin.
Referring to her son's belongings, Mr Irving added: "She said it was Easter presents and Christmas presents that Declan didn't need."
He said that Ms Hainey told him Declan was at Saltcoats with her mum and added: "She said she was missing him as she hadn't seen him for a long time."
Phone conversation
The court was also told by Mr Irving that he heard Ms Hainey on the phone and she seemed to be talking to Declan.
Under cross-examination by defence QC Edward Targowski, Mr Irving refused to name the person who supplied drugs to them.
He was then asked what he was selling to fund their drug use and replied: "Nothing."
Mr Targowski then added: "A fairly new baby buggy, would have a value, a baby's playpen and a bouncy chair."
Mr Irving said: "Yes, but I was under the impression that Declan would need them."
The defence QC also asked: "What did Ms Hainey do if babies or young children came on the television?"
Mr Irving replied: "She didn't like watching it and would turn over or switch off."
Ms Hainey is accused of assaulting, wilfully ill-treating and neglecting her son Declan over a 19-month period between September 2008 and March 2010.
Neglect charges
The Crown has charged her with either murdering her son, or alternatively, of neglecting him by failing to provide medical care for him whereby his physical and psychological development were impaired.
It is alleged that she left her son alone and unattended in the house for excessive periods of time, left him in wet and soiled nappies for excessive periods of time, caused him to be exposed to heroin and amphetamine, caused him to ingest these drugs and failed to provide medical aid and care for him.
The Crown also alleges that Ms Hainey pretended that Declan was alive in an attempt to defeat the ends of justice between July 2009 and March 2010.
Ms Hainey is also accused of possessing heroin and supplying the class A drug to a Renfrew man on various occasions between December 2009 and March 2010.
She denies all the charges against her.
The trial before judge Lord Woolman continues.