Kimberley Hainey trial: Dead child 'saved mum's life'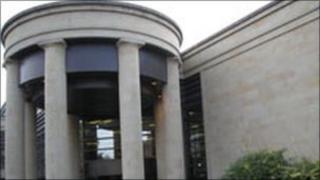 A woman accused of murdering her baby son told a counsellor she believed he had saved her life, a court has heard.
Kimberley Hainey is said to have made the comments to staff at the Paisley branch of Crisis counselling services on 10 March 2009.
A councillor's report said Ms Hainey compared herself to how she had been before she took heroin.
The 37-year-old, of Johnstone, Paisley, denies murdering Declan, concealing his body and pretending he was alive.
The High Court in Glasgow was told Ms Hainey was referred for counselling by a drugs worker at Family Matters, a branch of the social work department.
Councillor's notes
The trial heard from trauma counsellor, Sylvia Sneider, 60, who managed the Paisley branch of Crisis counselling services.
She confirmed the accused had met with a colleague who had made notes during the interview.
Defence QC Edward Targowski read an extract of the notes made by the councillor who wrote down Ms Hainey's feelings about her toddler son.
He said: "She believes he saved her life or gave her a reason to live."
The councillor also wrote: "In the past there was bereavements and some things went wrong all at once, she felt she couldn't cope and started smoking heroin.
"Before she knew it she was addicted, now there is the guilt that she was so stupid for doing that."
The court also heard the counsellor wrote: "She is really hard on herself and she is comparing herself to her former way of competitiveness and achievement.
"She feels a part of her is gone."
Ms Sneider told the court the case with Ms Hainey was closed later that month after she failed to appear at a further meeting that was arranged and no contact could be made with her.
Drugs charges
The witness was asked why the case was closed. She replied: "Because it was believed perhaps Miss Hainey was not ready to come for counselling at that point."
Ms Hainey is accused of assaulting, wilfully ill-treating and neglecting her son Declan over a 19-month period between September 2008 and March 2010.
The Crown has charged her with either murdering her son, or alternatively, of neglecting him by failing to provide medical care for him whereby his physical and psychological development were impaired.
It is alleged that she left her son alone and unattended in the house for excessive periods of time, left him in wet and soiled nappies for excessive periods of time, caused him to be exposed to heroin and amphetamine, caused him to ingest these drugs and failed to provide medical aid and care for him.
The Crown also alleges that Ms Hainey pretended that Declan was alive in an attempt to defeat the ends of justice between July 2009 and March 2010.
Ms Hainey is also accused of possessing heroin and supplying the class A drug to a Renfrew man on various occasions between December 2009 and March 2010.
She denies all the charges against her.
The trial before judge Lord Woolman continues.