Kimberley Hainey trial: Dead child looked 'horrendous'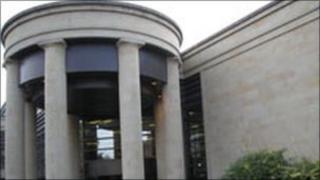 A police officer has told the trial of a woman accused of murdering her toddler son that the child's body was found in a "horrendous" state.
PC Dillon Pooley, 33, was giving evidence at the High Court in Glasgow trial of Kimberley Hainey.
He described how there was a "god awful smell" when he entered the house where 23-month-old Declan was found.
Ms Hainey, 37, of Johnstone, Paisley, denies murdering the child, concealing his body and pretending he was alive.
PC Pooley told the court that he and his colleague were called to 45 Bruce Road, Paisley, on 30 March last year, after a dead child was found in the house.
He said when he got out of the police car at the property he was met by Ms Hainey's mother, Elizabeth Rodden, who was "crying uncontrollably".
It was heard that Mrs Rodden's husband John, and her sister were also at the house when the police arrived.
Advocate depute Andrew Stewart QC, prosecuting, asked: "Did you notice anything when you went in?"
PC Pooley replied: "A god awful smell."
The witness said he walked further into the flat and saw Declan's body lying in a cot.
He told the court: "I noticed he had been dead for some time and his body was quite badly decomposed."
The jury heard the house was in a state of disarray with "stuff everywhere" including soiled nappies and milk cartons.
Mr Stewart asked PC Pooley if he could see what Declan looked like.
'Skin blackened'
He said his "skin was blackened, badly decomposed, it was horrendous".
The court also heard from paramedic Raymond Kelly, 51, who was called to the scene.
He said the first thing he noticed about the house was the smell.
Mr Kelly also described Declan as "badly decomposed".
The court heard that when undertakers came to take the toddler's body away they had to remove the mattress and the body.
The jury was also told that a number of letters dating as far back as July 2009 were found piled up behind the front door of the flat.
Ms Hainey is accused of assaulting, wilfully ill-treating and neglecting her son Declan over a 19-month period between September 2008 and March 2010.
Drugs charges
The Crown has charged her with either murdering her son, or alternatively, of neglecting him by failing to provide medical care for him whereby his physical and psychological development were impaired.
It is alleged that she left her son alone and unattended in the house for excessive periods of time, left him in wet and soiled nappies for excessive periods of time, caused him to be exposed to heroin and amphetamine, caused him to ingest these drugs and failed to provide medical aid and care for him.
The Crown also alleges that Ms Hainey pretended that Declan was alive in an attempt to defeat the ends of justice between July 2009 and March 2010.
Ms Hainey is also accused of possessing heroin and supplying the class A drug to a Renfrew man on various occasions between December 2009 and March 2010.
She denies all the charges against her.
The trial before judge Lord Woolman continues.