Kimberley Hainey trial hears 'indications of abuse'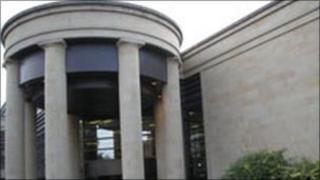 The trial of a woman accused of killing her toddler son has heard a forensic anthropologist found indications of possible "abuse or neglect".
Prof Sue Black was giving evidence at the High Court in Glasgow, where Kimberley Hainey is on trial.
She said growth retardation lines on the boy's bones could indicate "malnutrition... abuse or neglect".
Ms Hainey, 37, of Johnstone, Paisley, denies murdering Declan, concealing his body and pretending he was alive.
The High Court in Glasgow heard that Ms Black is a professor of human anatomy and forensic anthropology at Dundee University.
FBI consultant
She helped investigate war crimes in Kosovo, was involved in identifying bodies from the tsunami in the Far East and worked with the FBI in relation to political deaths in Grenada.
Prof Black was given permission to examine Declan's bones in Dundee.
She said she found no evidence of any fractures or diseases in the toddler.
The academic told the court she examined Declan's leg and arm bones and found instances of growth retardation lines.
She told advocate depute Andrew Stewart QC, prosecuting, that these are known as Harris rings and said that they could indicate "malnutrition, physical illness, psychological trauma, abuse or neglect."
Prof Black added: "These lines can also be caused by smoking. Nicotine causes this."
She said that the lines were "like a little memory that growth has stopped for a little longer than it should have".
Impaired development
Mr Stewart asked her if growth retardation lines could be caused by poor nutrition and Prof Black replied: "If they were to occur in one incident perhaps."
Under-cross examination by defence QC Edward Targowski, Prof Black admitted that not everyone in scientific and medical circles agreed with her view on Harris lines.
She said that she found six of these lines on examination of Declan's bones.
The jury was told that two recent publications in prestigious journals took the view that they were caused by growth spurts and not by abuse or neglect.
Mr Targowski also told the court that a consultant paediatrician at Yorkhill hospital in Glasgow claimed that these lines were found in healthy children.
Prof Black admitted that she had not told the defence about the two recent research papers saying: "I believe it is unsafe science. My duty is to give the court evidence I believe to be correct and not to give false science."
She added, referring to the research papers which claim Harris lines could be caused by sudden growth spurts: "I think it is the worst possible kind of science."
'Opposition view'
Mr Targowski said: "We know they are in direct opposition to your view," and she replied: "There are based on poor scientific principles."
She was then asked why the two pathologists who carried out the post mortem examination on Declan and the radiographer who X-rayed his body had not mentioned Harris lines.
Prof Black, who is not medically qualified, said: "It is within textbooks for pathologists and radiographers. The information is in their literature. I can't say why they wouldn't comment on them."
Mr Targowski then handed Prof Black photographs of Declan showing him from a young baby to the last picture of him taken when he was about 15 months.
He asked her: "This is Declan Hainey. Does he look like a healthy child?" and Prof Black replied: "I couldn't comment, it looks like a healthy child."
Mr Targowski then said: "As a mother," and she answered: "It looks like a healthy child."
Prof Black was also asked how many Harris lines children who died from cot death would have and she replied: "I don't know."
'Impaired development'
Ms Hainey, is accused of assaulting, wilfully ill-treating and neglecting her son Declan over a 19-month period between 1 September 2008 and 30 March last year.
The Crown has charged her with either murdering her son or alternatively of neglecting him by failing to provide medical care for him whereby his physical and psychological development were impaired.
It is alleged that she left her son alone and unattended in the house for excessive periods of time, left him in wet and soiled nappies for excessive periods of time, caused him to be exposed to heroin and amphetamine, caused him to ingest these drugs and failed to provide medical aid and care for him.
The Crown also alleges that Ms Hainey pretended that Declan was alive in an attempt to defeat the ends of justice between 1 July 2009 and 31 March 2010.
She is also accused of possessing heroin and supplying heroin to Greg Irving in Renfrew, on various occasions between 25 December 2009 and 31 March last year.
She denies all the charges against her.
The trial before Lord Woolman continues.