Scotland's problem drug user numbers increase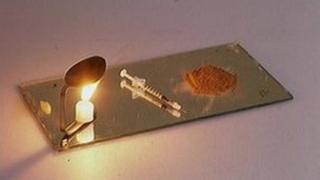 The number of problem drug users in Scotland has risen by 4,000, to an estimated at 59,600, Scottish government figures show.
Almost three-quarters (71%) are male and 43% are aged 35 to 64.
The figures, including those on methadone programmes, show a drop in the number of young Scots with serious drug problems.
Ministers said the figures showed Scotland's long legacy of problem drug misuse remained unacceptably high.
But Community Safety Minister Roseanna Cunningham said: "Our drugs strategy, the Road to Recovery, had only just been launched when this snapshot was taken, so this report doesn't provide us with any insight as to its impact."
There are some hopeful signs for the Scottish government.
The number of young people, aged under 35 with opiate addiction has fallen, a possible legacy of the historic problem and that the drug-taking population may be ageing.
The government said 42% of problem drug users were in treatment, although this might be an under-estimate as those receiving advice or information from GPs, social workers or open access services were not recorded in these statistics.
Cut back
It said investment in frontline services had risen by more than 20% since 2006/07, and ministers insisted they were on course to meet their target of ensuring 90% of all clients wanting treatment were seen within three weeks.
But Labour's justice spokesman James Kelly said the SNP government had cut back the overall budget for tackling the drugs misuse problem by £2.4m over the next three years.
He said it was "the wrong decision at the wrong time and shows they are complacent about the problem".
"Now we have these latest figures it is time for ministers to think again," he said.
Glasgow continued to have the most serious problem with an estimated 13,900 problem drug users - 3.41% of the adult population.
The city was the only council area in Scotland where the majority of addicts were in the older age group 35 to 64.
Some drugs workers said there was some evidence many younger people were relying on "legal highs" and alcohol instead of illicit drugs such as heroin.
David Liddell, director of Scottish Drugs Forum (SDF) said because of statistical uncertainty the figures showed a stabilisation in numbers of problem drug misusers.
He said: "However the figures show a very significant level of men aged over 35 with a severe drug problem.
"Research which SDF has previously carried out shows that many are lonely, isolated, experiencing major health problems and have lost hope of ever having a better life in the future.
"We need to provide education and training opportunities for a larger proportion of this population than at present, and also to look at supported employment programmes to enable more people to recover."