Declan Hainey murder trial hears care concerns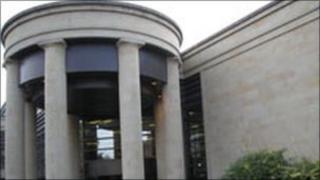 The trial of a woman accused of murdering her toddler son has been told it would be "very concerning" if the child had been left alone overnight.
Paediatrician Dr Jack Beattie told the High Court in Glasgow that the health of any child left for extended periods would "downward spiral" until death.
He was giving evidence in the trial of 37-year-old Kimberley Hainey.
Ms Hainey denies murdering 23-month-old Declan at their home in Paisley, hiding his body and pretending he was alive.
The toddler was last seen in public around July or August 2009 and his mummified body was found in his cot at his home in Bruce Road, Paisley, on 30 March 2010.
Experts have said he had been dead for months.
The jury has previously heard from Robert Milton, a boyfriend of Ms Hainey, who alleged that she would, on occasions, arrive at his home at night and stay for several hours.
'Concerning scenario'
On Tuesday, the court heard from Dr Beattie, a consultant paediatrician at Yorkhill Hospital for Sick Children in Glasgow.
Advocate depute Andrew Stewart QC asked Dr Beattie: "Robert Milton said Kimberley Hainey stayed overnight with him on occasions beginning in April 2009 and he says the visits continued until June or July 2009. If Declan had been left alone unattended what would the risk to him be?"
Dr Beattie replied: "Well it's a very concerning scenario. He can't look after himself. The main risk is dehydration and damage to the kidneys."
Mr Stewart then asked: "How would Declan feel if he was left overnight?"
Dr Beattie replied: "He would feel unusual. He would breathe faster, he would be pale and would have very cold hands and feet and would become lethargic."
The prosecutor went on to ask what the consequences would be for a 12 to 18-month-old child if he were left alone for 48 hours.
Dr Beattie said: "It would be a very severe situation. The body would just shut down. The heart rate and breathing goes up and the body doesn't work properly. It's a downward spiral - at some point death must arrive."
Mr Stewart then asked what would happen if a baby was repeatedly left alone and Dr Beattie said: "It must have a cumulative effect."
'Child abandonment'
Dr Beattie was again asked about a very young child being left alone for 48 hours and said: "Leaving an infant for 48 hours might be thought of as abandonment. Infants need emotional care."
Under cross-examination by defence QC Edward Targowski, Dr Beattie, an advisory doctor to the Scottish Cot Death Trust, was asked: "You can have a child who is put down to sleep and is found dead in the morning?"
He replied: "Yes."
Mr Targowski then asked if Declan could have succumbed to sudden unexplained death and Dr Beattie replied: "We can't know."
Dr Beattie said he had previously had dealings with a number of parents whose children suffered sudden death syndrome.
He was then asked how well they dealt with the death and replied: "They all reacted differently. Sudden death is a very difficult thing for parents to come to terms with. It's a terrible trauma emotionally."
Mr Targowski then said: "I suppose some people never get over the death of a child," and Dr Beattie said: "That's correct."
Earlier Dr Beattie was shown photographs of Declan ranging in age from a baby up to 15 months old and asked what he thought of him.
'Happy child'
Dr Beattie said: "He looks like a normal happy child."
Ms Hainey, is accused of assaulting, wilfully ill-treating and neglecting her son Declan over a 19-month period between 1 September 2008 and 30 March last year.
The Crown has charged her with either murdering her son or alternatively of neglecting him by failing to provide medical care for him whereby his physical and psychological development were impaired.
It is alleged that she left her son alone and unattended in the house for excessive periods of time, left him in wet and soiled nappies for excessive periods of time, caused him to be exposed to heroin and amphetamine, caused him to ingest these drugs and failed to provide medical aid and care for him.
The Crown also alleges that Ms Hainey pretended that Declan was alive in an attempt to defeat the ends of justice between 1 July 2009 and 31 March 2010.
She is also accused of possessing heroin and supplying heroin to Greg Irving in Renfrew, on various occasions between 25 December 2009 and 31 March last year.
She denies all the charges against her.
The trial before Lord Woolman continues.