Reamonn Gormley's murder 'devastated' his community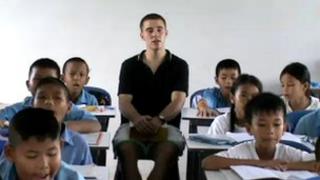 The death of 19-year-old Reamonn Gormley deeply affected the Lanarkshire community of Blantyre, with hundreds attending his funeral at the town's Roman Catholic church.
Father Brian Lamb, the priest who conducted the service after the teenager was stabbed to death in February, said that was some comfort for his family - even though the effect of Reamonn's murder is always with them.
"Devastation is the only word I could use, and his family will never be the same again," he said.
"His family will never forget the events of that night. They've got good family, good community support.
"However they'll not wake up from the nightmare."
Within a few days of his murder a walk was organised to commemorate Reamonn life and express the community's revulsion of knife crime.
More than 2,000 people took part, and the organisers have capitalised on the strength of feeling to form the anti-knife crime group Campaign for Change.
The man behind the march, John Tierney, said they were determined not to lose momentum.
"We never anticipated how many people were going to be involved. We thought we had to kick on from that, we didn't want our action to end with the walk itself," he said.
"I think it showed a bit of solidarity, and that we were united as a community.
"If ever we feel we are waning on motivation, all we need to do is look back on that day, and look back at the charity work that Reamonn Gormley has done, and that's where we take our inspiration from."
The devastation was felt at the other side of the world too; in Thailand where Reamonn had taught English in a primary school, one of the few in the country to accept pupils with Downs Syndrome.
Paul Lennon, head teacher at the Good Child Foundation, said Reamonn was an inspirational figure, loved by the whole community.
"Children in tears everywhere, even now, all this time later," he remembered.
"Not just the school, the whole village. Old ladies in the market and the young children at the school.
"Everybody was heart-broken. Reamonn was really well-liked and everyone was looking forward to the time that he would come back to us."