Hainey trial: 'No sign of malnutrition' in dead toddler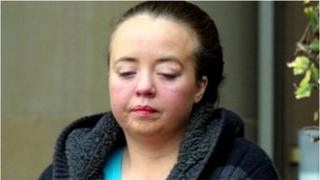 The trial of a woman accused of murdering her son has heard from a consultant pathologist that there was no sign of malnutrition in the toddler.
Dr David Mangham, a bone expert, was giving evidence at the trial of Kimberly Hainey.
The 37-year-old denies murdering her son at their home in Paisley, hiding the body and pretending he was alive.
The High Court in Glasgow heard Dr Mangham examined X-rays of Declan's bones for Hainey's defence team.
The pathologist at the Royal Orthopaedic Hospital in Birmingham was asked by defence QC Edward Targowski: "If you were being shown the radiographs of Declan you would see no sign of malnutrition?"
Dr Manghom replied: "That's correct."
He was also asked if there was anything to suggest that Declan's bones were thin or fragile and he replied: "No."
He was then asked if the toddler had suffered from growth retardation and said: "It's impossible to say."
Alternative charge
Prof Sue Black, a forensic anthropologist from Dundee University, has previously told the trial that Harris lines on Declan's bones could show he was malnourished, abused or neglected.
Dr Mangham said that he disagreed with her opinion.
The jury of eight women and six men has heard that Declan was last seen in public about July or August 2009.
His body was discovered in his cot at his home in Bruce Road, Paisley, on 30 March 2010. Experts said he had been dead for months.
Ms Hainey is accused of wilfully ill-treating and neglecting her son Declan over a 19-month period between 1 September 2008 and 30 March last year.
The Crown has charged Ms Hainey with either murdering her son or alternatively of neglecting him by failing to provide medical care for him whereby his physical and psychological development were impaired.
It is alleged that she left her son alone and unattended in the house for excessive periods of time, and failed to provide medical aid and care for him.
The Crown alleges that Ms Hainey pretended that Declan was alive in an attempt to defeat the ends of justice between 1 July 2009 and 31 March 31 2010.
Ms Hainey denies all the charges against her.
The trial before Lord Woolman continues.