Wrong-way M8 driver killed woman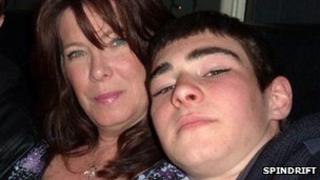 A drink-driver killed a charity worker after going down the wrong side of a motorway for a mile, a court has heard.
The High Court in Glasgow was told Ross Parker ploughed into Margo Boulazreg's Fiat on the M8 in the city as she took her son to a night out with friends.
Parker, who had been in a pub watching football, was heard saying minutes after the crash: "I shouldn't even be driving. I'm wrecked."
The 36-year-old admitted to a charge of causing death by dangerous driving.
Parker, of the city's Jordanhill, was remanded in custody until sentencing next month.
He had left a bar in Glasgow's southside on 24 February and drove onto the eastbound carriageway of the M8 into the face of on-coming traffic.
'Screamed and swerved'
Mrs Boulazreg, 52, from Houston in Renfrewshire, was on the M8 at about 23:30 taking her son Callum to Glasgow when Parker's car appeared in front of them.
Prosecutor Hugh Irwin said: "Mrs Boulazreg screamed and swerved her car to the left crossing into another lane where she straightened her vehicle.
"The accused's car also swerved into the same lane where it collided with the front offside corner of Mrs Boulazreg's vehicle."
The prosecutor said the impact caused "huge amount of crush damage" to both cars.
The court was told Mrs Boulazreg - a project manager with Quarriers Village - was trapped in her Fiat Punto and died at the scene.
Parker was seen staggering out of his wrecked car looking "shaky".
He said to a young woman who had stopped at the scene: "I shouldn't even be driving. I'm wrecked."
As the victim lay dead in her car, Parker added: "I just want a fag. I'm so drunk. I've wrecked everything about my life."
A blood sample from Parker was tested and found he could have been twice the drink-drive limit at the time of the fatal crash.
The court was told Mrs Boulazreg's son Callum suffered a fractured neck and also required surgery to his ankle.
Speaking at a funeral service in March, he said: "I just want to say something simple - I have always loved my mum with all my heart and always will."