Hainey trial: Mother denies leaving son overnight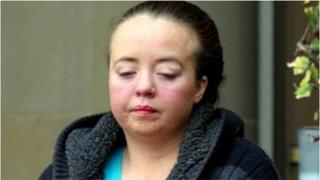 A woman accused of murdering her son has told a trial she had never left him alone overnight and would only leave him for short periods.
Kimberley Hainey, 37, told the jury at the High Court in Glasgow that Declan was a fresh start and saved her life.
She said she only left him for short periods and did not like taking him to collect her Methadone prescription.
Ms Hainey denies murdering her son at their home in Paisley, hiding the body and pretending he was alive.
Giving evidence for the first time at her trial, she said her then partner David Gibson was happy when they discovered she was pregnant, however he left before Declan was born.
Defence QC Edward Targowski asked Ms Hainey if she was also happy when she found out and she said she was.
'Saved my life'
Mr Targowski asked: "Why were you happy?"
Hainey answered: "I don't know I just was. I was happy, it was a fresh start. He saved my life he really did, he turned my life around. It is a feeling you can't describe."
The court was told that after having a bad relationship with her mother prior to Declan being born her family "came together" again.
Ms Hainey was asked about leaving her son alone during the time he was alive but denied leaving him overnight and said there were only a few occasions he was on his own.
She told of going to the shops one night for milk, leaving a teething Declan sleeping in his cot.
She said: "It was only for 10 minutes, it was after midnight, I put him down and phoned a taxi. I didn't want to walk to the shops, I wanted to go in a taxi and back.
"I was less than 10 minutes, I went and got the Cow & Gate formula for him."
The jury was also told of a "couple" of occasions of her "nipping across the road" to a neighbours and that she would take her baby monitor with her if it was for any length of time.
She described the distance between the houses as "like taking the washing out".
She added: "It wasn't something I did on a regular basis."
Drug meetings
Ms Hainey was also asked about her missing meetings with Jill Stevenson, a drugs worker who tried to meet with her.
When asked by her defence QC about missing these meetings, she said: "It was just easier to make an excuse."
She added: "Jill sometimes was overbearing, sometimes you couldn't get her off the phone. I felt like a naughty schoolgirl. I am a grown-up woman I am not asking for this."
Ms Hainey also told the court how a nurse at the hospital reassured her when she took Declan to be seen with nappy rash.
She said: "She relaxed me, said I had done the right thing."
'Content baby'
Ms Hainey described her son as a "very mild natured" baby, adding: "He was very content, I couldn't ask for a more well-behaved child."
Declan's body was discovered in his cot at his home in Bruce Road, Paisley, on 30 March 2010. Experts said he had been dead for months.
Ms Hainey is accused of wilfully ill-treating and neglecting her son Declan over a 19-month period between 1 September 2008 and 30 March last year.
The Crown has charged Ms Hainey with either murdering her son or alternatively of neglecting him by failing to provide medical care for him whereby his physical and psychological development were impaired.
It is alleged that she left her son alone and unattended in the house for excessive periods of time, and failed to provide medical aid and care for him.
The Crown alleges that Ms Hainey pretended that Declan was alive in an attempt to defeat the ends of justice between 1 July 2009 and 31 March 31 2010.
Ms Hainey denies all the charges against her.
The trial before Lord Woolman continues.